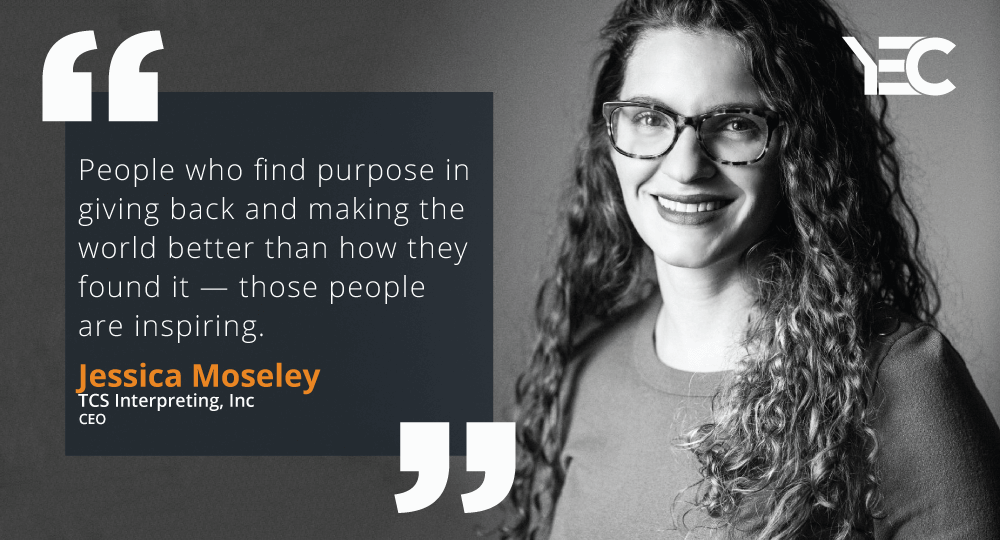 Spotlight: Young Entrepreneur Jessica Moseley
YEC member Jessica Moseley is the CEO of TCS Interpreting, a premier provider of sign language interpreting services nationwide. Her involvement in the Deaf community began at birth, when she was born to Deaf parents and learned American Sign Language (ASL) as her first language. She was also born into the entrepreneurial life; her parents founded a successful IT company that offered mainstream IT support as well as assistive technology for blind, low-vision, and deaf-blind individuals. Jessica grew up watching them "overcome barriers and hustle on a daily basis."
Jessica says she never intended to be an entrepreneur, but found that this path was meant to be. After obtaining degrees in Communication Sciences and Disorders and in Human Resources, she worked in corporate HR departments for a while before returning to her roots, joining TCS Associates (the company her parents, Phil and Myrna Aiello, had founded). Jessica helped to grow and expand the interpreting side of the business, and eventually to restructure the organization to what it is today.
Now, as the CEO of TCS Interpreting, Jessica provides on site and remote sign language interpreting services that allow TCS to accomplish its mission — providing world-class language access to the Deaf community. She also serves on the boards of Entrepreneurs Organization and Deaf in Government, which aims to provide resources and education to Deaf employees in the federal workplace, and as a Managing Partner for The Moseley Group and its portfolio Companies; Moseley Ventures and iYellow Captions. Somehow she also finds time to be an active mentor and a coach to hearing and Deaf entrepreneurs — all while raising three children.
Jessica found a moment to share her experience with us. Below, she offers her thoughts on community, leading for good, and teamwork.
On Community
I was born into the Deaf community, with my parents and one of my older sisters being Deaf. American Sign Language is my first language and the culture and community I knew from a very early age. Even to this day the Deaf community is the community I align with the most and find myself most comfortable in.
[Now] I am able to give back to the community that raised me. We [at TCS] provide services that allow the playing field to be leveled between the Deaf and hearing communities, and we get to educate people about the amazing Deaf community along the way. I am grateful for what the Deaf community has taught me, and the best is yet to come.
On Leading for Good
I am inspired by those who continue to be a leader for good, not just a good leader, and by those who help make the world a better place than how they entered it. Being a leader for good starts first with showing up for yourself and continues by aligning your actions with your purpose and values. The leaders who spend time investing in themselves and others to give more than they take and who find purpose in giving back and making the world better than how they found it – those people are inspiring. This goes beyond those who contribute to charity and/or volunteer their time, but people who embody making this world better with their work, time and/or presence.
On Teamwork
I've learned over time that I can't do it all and I certainly can't do it alone. For a period of time I was so fearful of being looked at as a fraud. I thought I had to be the one with all the answers and when I didn't people would see through me. What I realized was those thoughts were tied to my own insecurities and my lack of confidence in my abilities. Once I turned to my team and let them in, the business grew exponentially. Knowing specifically what I am good at and where I create the most value for the businesses, which means knowing what to delegate, has been a critical component to the trajectory of our growth. In addition to that, trusting myself and trusting my leadership team has proven to be very impactful for me on a business and personal level. They give me the confidence to lead them daily and I am grateful for that.
Tidbits
Favorite dessert?
All the desserts!

What are you reading right now?
The Invitation by Oriah Mountain Dreamer

App you can't do without?
My Fitness Pal

Place you'd most like to visit?
Bali