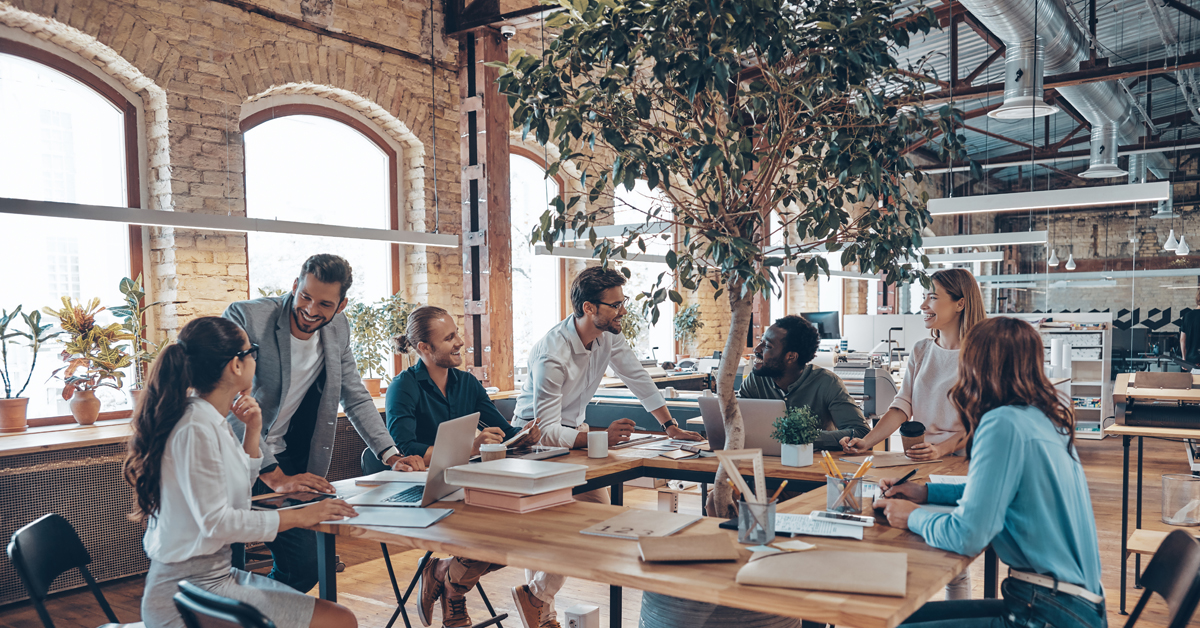 How Entrepreneurs Can Create an Inspiring and Effective Office Space
More companies than ever are remote now, but if you have a physical office, making it a welcoming, multi-functional space encourages employee engagement and satisfaction. Your space both reflects and contributes to your company culture, so it's important to give it some thought and create the kind of space you want to live and work in.
This is why uber-successful companies like Google are known for investing in unusual and inspiring office features, like slides, aquariums, and libraries.
Here are three suggestions for creating an office that keeps your team coming back.
Choose inspiring decor
"Being in the center of such a vibrant atmosphere, we really hoped to capture that same vibe in our office's interior. Using colorful walls, an open floor plan and some out-of-the-ordinary decor, I feel we did just that. And it shows by the way our team interacts with each other on a daily basis." — YEC member Phil Laboon, CEO, Growth Stackers
Where would you rather work — a bleak neutral cubicle in a sea of other cubicles? Or a colorful, airy space with plenty of light and inspiring decor? A stark gray environment with gray walls and gray cubes may be professional, but it is also dull and uninspiring.
To create a fresh and inspiring work environment, look into trends in color, light, and furnishings. Choose design elements that represent you and your company. You might even call on an interior decorator — or at least a design-oriented friend — to contribute ideas.
Build a creative work environment
"I want to show up to this place, not just to hang out with the team and such, but to actually get work done and be inspired to get work done." — YEC member Beck Bamberger, founder, BAM Communications
Make your office a creative work environment. Provide spaces for collaboration, concentration, and decompression, so that people can move around as their tasks and needs dictate. Consider where a quiet nook or active space could provide respite from an open floor plan. You might designate spaces:
For collaboration and hanging out:
Groups of comfortable chairs, loveseats, or sofas with coffee tables
Decorative pub tables with barstools
Lounge/snack area or kitchen for eating and talking
For active breaks and boosting energy:
Pool or ping-pong table
Putting green
Yoga/workout room
Outdoor space (or encouragement to take advantage of public outdoor space near your office for rejuvenating walks)
For quiet reflection and recharging:
Meditation spots (a couple of cushions in a relatively quiet space, or access to the outdoors)
Single comfy chairs in quiet corners (bonus points for a view of nature)
Keeping employees strapped to their desks (figuratively) used to be the gold standard for office jobs. But we've accepted that human brains need variety, breaks, and inspiration for best results — especially for creative and intellectual work.
Get greenery
"There's nothing like greenery to make an office feel modern, warm, approachable and comfortable." — YEC member Mitch Gordon, CEO and co-founder, Go Overseas
Add atmosphere (and oxygen!) to your space by adding greenery.
Plants are easy to find, affordable, and low-maintenance. Start by considering the amount of natural light available, and choose plants that will do well in your environment. Place them strategically in open areas for everyone to enjoy. Succulents are notoriously easy to care for — they might be a good choice for starting out. Be aware that some of your employees may have allergies, and take that into account when choosing and placing flowers and plants.
If no one in the office has a green thumb, or allergies are an issue, try faux plants. They don't filter the air like real plants, but they do improve mood, morale, productivity, and focus just like the real thing. Faux plants require less maintenance (although they could use a light dusting once in a while).
If you've never considered fake plants because of the bad rap they get for looking — well, fake — your argument is out of date. Beautiful, ultra-realistic options are now available. If you can't afford the high-end plants, keep in mind that cheaper, less realistic options can still look good on high surfaces like the tops of cabinets or hung from the ceiling.
---
Make your office a place that fosters creativity, concentration, and hard work. Start by popping in some plants, and see where inspiration takes you.
Download "The Young Entrepreneur's Ultimate Checklist: Building a Company Culture That Supports Your Vision" and start implementing 19 great ideas that have worked for YEC'ers.