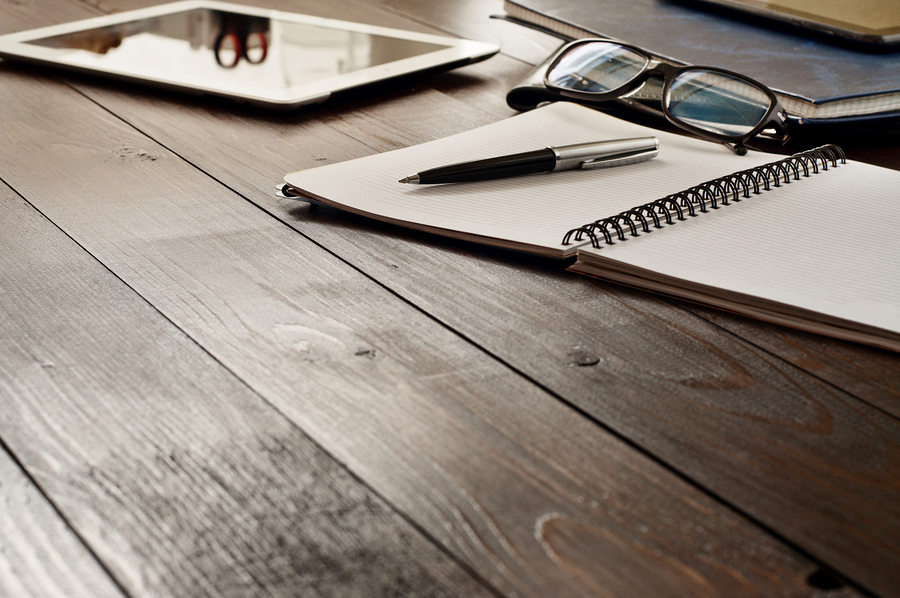 Write Better (and Faster) Using an Outline
---
Writing well is hard. You need time and focus, two things that are always in short supply. And if you're like me, ideas aren't the problem — it's translating them into something legible and effective that's difficult.
The good news, to quote the late William Zinsser: "Anybody who can think clearly can write clearly, about any subject at all."
To "think clearly," you need a plan. I use a method so simple that you probably learned it in grade school: the outline.
For busy experts trying to create thought leadership content regularly, outlining is a game-changer. Try it on your next article — I promise you'll see a big difference in clarity and speed. Here's how.
Step 1: What Is My Article Really About?
Your topic could be a headline or a short description. It could also be a paragraph. What matters is that it is clear, specific, tied to your branding goals and most importantly, valuable to your audience. As Brian Clark writes on Copyblogger, when you're crafting thought leadership content, "you're usually seeking to educate or persuade (often both)." If your topic won't do either? Start over.
As an example, a bad topic would be "company culture." It's too broad; you'll get stuck trying to find your way out. But here are some better, related ideas:
A step-by-step process for defining your company culture with your leadership team
How to transmit company culture during new employee onboarding
An aspect of company culture that often goes overlooked
Not only do each of these topics offer the reader a tangible takeaway, they provide focus for the writer too. (Note: Don't worry too much about your headline now, but thinking of possible headlines can be a good way to narrow your topic down further. For example, "The One Aspect of Company Culture Most Leaders Overlook" would make me click!)
Assume I'm the writer here, and I want choose the third idea. I'm ready to start my outline. I'll add the basic ingredients of an article to give me some structure — intro, main points, conclusion. It looks like this:
Topic: How to transmit company culture during new employee onboarding
Introduction
Main point/section 1
Main point/section 2
Main point/section 3
Main point/section 4
Etc.
Conclusion
Step 2: What Points Will Help My Reader Get From A to B?
Next, it's time to draw on my research or personal experience and start filling in the body of the post. If you're struggling here, one way to do this — as outlined on this Hubspot blog post — is to list all the takeaways your reader should walk away with, then group them into sections.
Here's what I decide to include:
Topic: How to transmit company culture during new employee onboarding
Introduction
Background: why onboarding is a critical time to educate about culture
Schedule meetings with department heads
Creating a welcome packet
Send new hire information about the company before they arrive
Assign departmental "mentors"
Have new hire attend company meal before start date
Conclusion
TIP: Once you arrive here, you can pass your outline along to someone else on your team so they can help you fill in the blanks (or find relevant stats, examples and links) for you.
Step 3: What Research or Examples Can I Use to Support My Main Points?
You might have a really juicy statistic or an interesting firsthand story to share. If so, paste or write it next to the introduction area of your outline. It's good to start your article with compelling evidence that (1) shows that your article is worth reading and (2) tells the reader why your perspective is unique/exciting/different/helpful.
With this in mind, I'm actually going to move my first main point up — it should really be part of my introduction, because explaining the problem with most company's onboarding processes upfront will hook my readers. They likely have similar problems.
Other statistics or resources (and anecdotes from your personal experience) will go under each key point.
Here's what I've got so far:
Topic: How to transmit company culture during new employee onboarding
Introduction: Why onboarding is a critical time to educate about culture. 1 in 6 employees consider quitting in the first 90 days. With employee engagement low, the best way to keep recruiting costs down is by emphasizing your main differentiator: culture. (More stats)
Schedule meetings with department heads

We do this during week 2, finding that week 1 is too overwhelming

Creating a welcome packet

Not just paperwork — it should reflect what your culture stands for. Use example from Ogilvy Cape Town

Send new hire information about the company before they arrive

Send forms separately from the "fun" stuff
Work with department heads to create a culture knowledge base (video, blog posts, press coverage)
Start booklet or packet with an actual description of company values and mission
Tip: try using automation so this is a "one and done" process. MailChimp details their process here

Assign departmental "mentors"

At our company every new hire gets a "mentor;" since we started doing this, we have not had anyone new leave the company in 2 years
Here's some guidance on starting an in-house mentoring program from Inc.

Have new hire attend company meal before start date

We do team drinks 1-2 weeks before the new hire starts so he or she can get to know the team informally. Makes first day less stressful
Conclusion
Tip: Don't forget to include what you don't know.
Step 4: What Can I Cut or Reorder?
Jennifer Rodriguez from Influence & Co. has a very simple litmus test: "You don't need two examples or stats for every single point, but you need to have at least one. If you don't, dump that point … Having flimsy arguments means you'll eat up time researching and attempting to strengthen it when you should be writing." She also emphasizes the importance of putting your outline in a logical order.
With that in mind, I see my outline has a few weak spots. I move "send new hire information" under "create a welcome packet," because it doesn't stand alone. I also change the bullets to be in the actual order of the onboarding process so my readers can follow along easily.
Step 5: Now Write!
That's it. You're done. If you walked through these steps, you're ready to sit down and write. Since you already laid the groundwork, from research to key points, there's no more guesswork — and writing won't feel like a chore. Happy outlining!
---
This post is part of a series on how YEC members can best utilize their personal branding and publishing benefits. If you're not yet a member, see if you qualify.