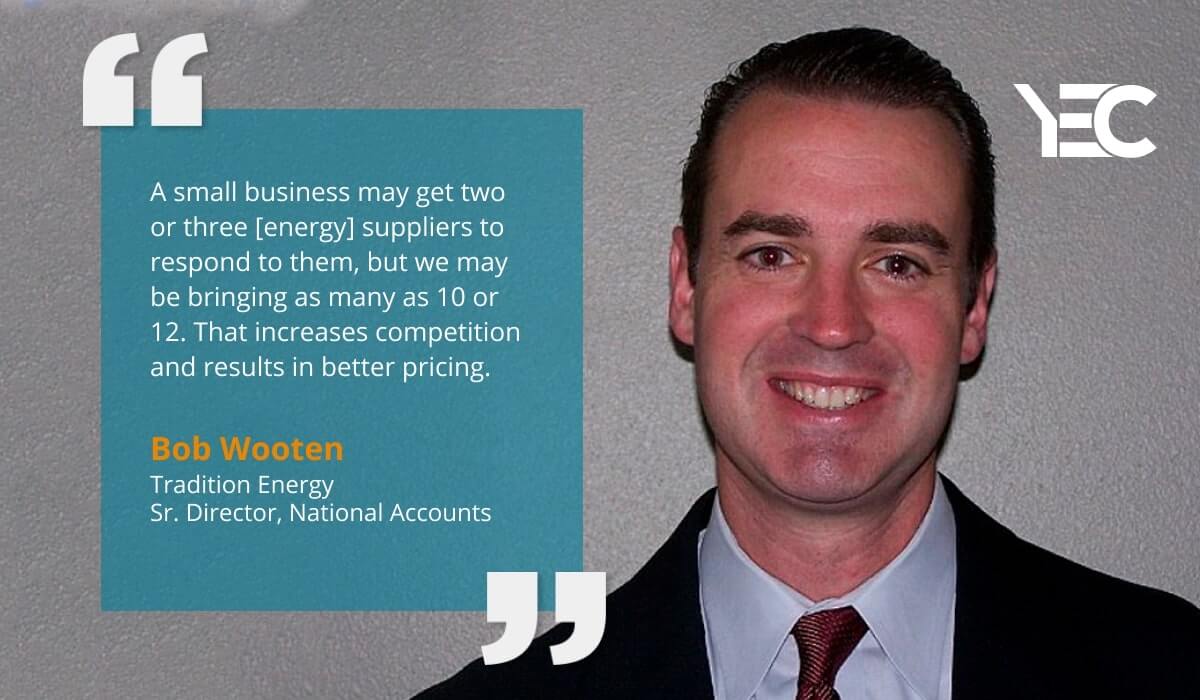 Tradition Energy's Bob Wooten Helps YEC Members Reduce Energy Costs
Energy costs often take a big bite out of a company's budget, but Forbes YEC partner Bob Wooten of Tradition Energy feels confident that he can help members save money, at no cost to them.
According to Wooten, Tradition is one of the top three wholesale energy brokerage firms in the world. Like any commodities broker, the company brings buyers and sellers together to find the best possible price. "It's what you would call strategy on the supply side of the energy," Wooten says. "It's looking at what companies spend, what utility serves them for electricity and natural gas, and then looking at strategies that can control and reduce those costs if possible."
Even more important, Wooten says, is helping YEC members achieve the kind of budget stability that's tough for a single customer to nail down. "They don't have the kind of leverage that we do," Wooten says. "Because we're a global wholesale brokerage firm, we have a much better view of where the markets are moving." And because Tradition is the largest independent energy procurement advisory firm in North America, the company can bring more suppliers to the table to compete. "A small business may get two or three suppliers to respond to them, but we may be bringing as many as 10 or 12," he says. "That increases competition and results in better pricing."
Wooten says he's frequently able to save customers 10-15% on energy costs if they're situated in areas where energy is deregulated. However, Tradition's services make the most sense for companies that spend $100,000 or more annually on electricity and natural gas, he says. Companies with multiple locations are most likely to benefit from working with Tradition.
"It's what you would call strategy on the supply side of the energy," Wooten says. "It's looking at what companies spend, what utility serves them for electricity and natural gas, and then looking at strategies that can control and reduce those costs if possible."
The company's services are free to YEC members, says Wooten. For companies who are good candidates for cost savings, Tradition does an overview of the business and determines how brokers can negotiate electricity and natural gas contracts. The company goes out into the marketplace, pulls together an analysis of different offers, highlights the potential cost savings, and determines the ideal time to execute a contract." If cost cuts aren't possible, Wooten says, "we assure them that they're doing everything they possibly can do to reduce costs, that they're good where they are right now and that we'll stay in contact from time to time in the future in case that changes. It really is about as risk free as you get."
A 25-year veteran of the energy industry, Wooten has been with Tradition since 2007, where his primary focus has been helping clients with the procurement and management of energy. Before that, he was a purchasing manager of a large energy purchasing cooperative. He says the pandemic has compelled his industry to make major changes. "The entire model has always been everyone sitting in a very large room — kind of an open pit where people yell across the room to consummate a deal," he says. "And then COVID hit, and it really is just amazing how quickly organizations can adjust. I'd never even heard of Zoom prior to March." Brokers now operate remotely and those have gone back to the workplace are socially distanced and masked. "It's fascinating that an industry that has operated one way for decades could switch to people working out of their homes in a matter of months," Wooten says. "It's actually functioned very well."