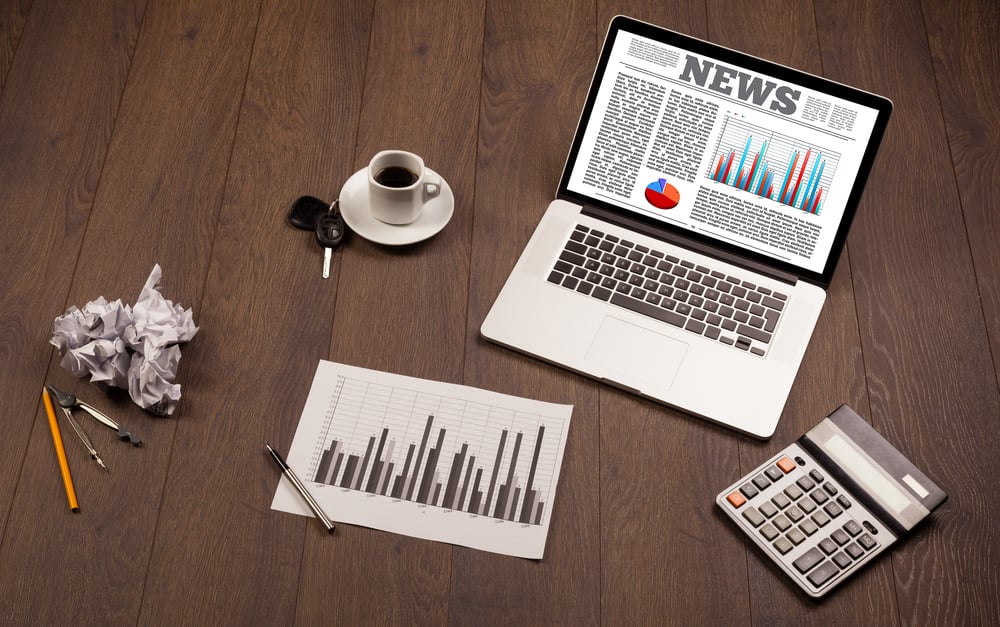 Setting Up the Perfect Home Office to Maximize Comfort and Productivity
While I get ready to start my work day from my home office on this Tuesday morning, I can't help but think about how remote work is the new reality for many people, maybe even longer term. In fact, according to 451 Research, up to 40 percent of organizations will shift to a more robust work from home environment permanently. While I've taken advantage of Dell's flexibility to occasionally work from home in the past, I can say now – after three consecutive months of doing so – working remotely long term is a completely different reality, fraught with balancing work and life.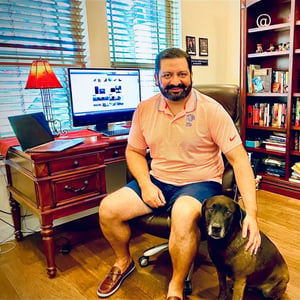 Most of us probably got what we needed to work from home relatively quickly, but we might not have taken the time to get the right technology and tools to work comfortably and productively. Even as a Dell employee, there were adjustments with my home office that needed to be made.
If you're looking for recommendations on the ideal home office setup, here are a few of our favorite devices.
Your PC is your new companion, so pick the right one
Our focus has always been to offer a versatile and secure portfolio of commercial laptops to help professionals easily work from anywhere, with fast and simple connections, powerful performance and smarter devices ranging from ultra-premium to more budget friendly options.

My personal favorite is the Latitude 9510. This is my new work from home PC. It is the smallest, lightest, most intelligent 15-inch business PC¹. It offers enhanced collaboration features with premium built-in speakerphone and intelligent audio solutions that cancel background noise, up to 34 hours of battery life² for anyone who jumps from room to room throughout the day and 5G-ready design³ to boost your connectivity options. If you prefer a smaller laptop, the Latitude 7410 features Dell's first 4K, low blue light panel on a premium business PC4 to help enhance eye comfort – something most of us could benefit from as we work longer or later hours at home.
For workers who prefer desktops or have minimal space, the OptiPlex 7070 Ultra is a zero footprint desktop solution, with the PC module hidden in the stand. And for creators, engineers, and data scientists that require exceptional graphics and compute power, the Precision 5000 and 7000 mobile workstations should be at the top of your list. My favorite being the all new Precision 5750.
All of these devices include Dell Optimizer5, our new AI-based optimization technology that learns how each person works and adapts to their behavior to improve overall application performance, while also advancing our commitment to sustainability.

Never forgetting our entrepreneurial roots, we also have great devices for small businesses. Our latest XPS 15 and XPS 17 provide bigger screens in smaller footprints. They are designed to help you unleash your creativity with powerful performance features and immersive visuals on stunning 4-sided InfinityEdge displays.
For small business owners looking for an affordable, performance-driven laptop, the new Vostro 7500 is equipped with a powerful NVIDIA® graphics card, passes the military-grade durability test (MIL STD 810G)6 and features a spill-resistant keyboard that helps you power through morning coffee and lunch meetings.
Conference Effectively with an Integrated Adapter Speakerphone
The remote workforce is spending more time than ever in virtual meetings, but it's not always comfortable to wear a headset for prolonged hours. If your PC doesn't offer a high-quality speakerphone experience, the new Dell Mobile Adapter Speakerphone (MH3021P) is for you—it's the world's first multi-port adapter with integrated speakerphone.7 This sleek, compact and innovative design provides convenient conferencing experiences while increasing your productivity, even while multi-tasking.

The intuitive controls make it easy to navigate call functions and its numerous ports offer a wide variety of connectivity options. You'll come across loud and clear during the calls thanks to the omni-directional microphone that can pick up voice from all directions, as well as echo cancellation and noise reduction features that eliminate background noise distractions.
The Dell Mobile Adapter Speakerphone can connect to a display that supports up to 4K resolution with HDR, transfer large media files in seconds and charge your laptop—all at once and while you are on a call. It is designed to be plug-and-play (no software downloads needed) and is optimized for platforms like Zoom, Microsoft Teams and many more.
Maximize Productivity and Comfort with the Perfect Monitor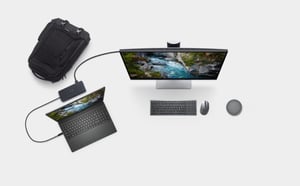 According to Forrester Research, 92% of workers believe ergonomically optimized monitors are critically important for improving their productivity and comfort as they shift to remote work more permanently. As the world's leader in PC monitors for seven years running8, we are committed to delivering the best monitors across our portfolio – from our premium UltraSharp line to every day affordable monitors like our P and E series – giving you the most ergonomic and productive workspace at home.
My personal pick is the Dell UltraSharp 27 4K USB-C Monitor (U2720Q). The 4K UHD resolution helps you see four times more detail than Full HD. VESA DisplayHDR™ 400 and wide color space coverage makes it ideal for workers and designers who value accurate color with striking clarity.
If video conferencing accounts for a large part of your work day, the Dell 24 Video Conferencing Monitor (P2418Hz) may be the monitor for you. With a built-in 2MP Full HD infrared camera supporting Windows Hello, noise-canceling microphone and two 5W integrated speakers, you can fully engage and collaborate in all your virtual meetings.
Click here for more tips on how to choose the right monitor for your home office.
Pick the Perfect PC Accessories
To further enhance your connectivity, set up your professional home office with the world's most powerful charging docks9 — WD19, WD19TB, WD19DC that can charge your PC up to 80% in an hour with ExpressChargeTM 10. These future-proof, upgradable designs allow you to customize your workspace with monitors and other accessories like keyboard, mouse, headset/speakerphone and webcam. You might also want to check out the Dell Multi-Device Wireless Keyboard and Mouse Combo (KM7120W) which conveniently allows up to three-device connectivity with Bluetooth 5.011 and 2.4GHz RF (dongle) wireless connection methods, so you can switch easily across your laptop, desktop or 2-in-1. The slim, compact keyboard provides a neat and clutter-free workspace while providing up to 36 months of battery life12.
Other Tikoo Tips
While I hope the above devices help you create the perfect home office, remote work is about more than just technology. It's also about staying positive, taking care of your health and well-being, balancing your home life while being engaged with colleagues and keeping everyone productive. You can do this by setting a daily schedule that starts with getting some exercise, getting ready for work even if its few steps away to the home office, and frequent check ins with the family during the day. Consider incorporating water cooler chats and virtual happy hours as part of your team meetings to foster personal relationships and lighten the mood. And be mindful of videoconferencing fatigue by alternating video and phone meetings, scheduling shorter meetings and building in more frequent mini-breaks to give yourself a chance to recharge throughout the day.
If you're a YEC member who would like to speak with our Dell representative, please contact concierge.
This article originally appeared on the Direct2Dell blog.
1 Based on Dell analysis, November 2019. The smallest refers total surface area of the notebooks.
2 Battery life is based on testing Latitude 9510 with Intel Core i5- 10210U, 8GB RAM, 256 GB SSD, 88Whr battery and FHD non-touch display, using the Mobile Mark 2014 benchmark test available at www.bapco.com. Test results are for comparative purposes only. Actual battery life may be significantly less than the test results and varies depending on product configuration and use, software, operating conditions, power management settings and other factors. Maximum battery life will decrease with time.
3 5G LTE option on 2-in-1 coming in fall of 2020. Mobile Broadband/LTE: Subject to service provider's broadband subscription and coverage area; speeds may vary. Additional charges will apply. Contact your service provider for details.
4 Based on Dell analysis using publicly available data, April 2020.
5 Dell Optimizer not available in OptiPlex 3000 series. Feature availability and functionality varies by model. Click here for more details.
6 Based on testing and certification to MIL-STD-810G standards, performed and reported independently by accredited testing companies, December 2019. Actual results may vary; testing results do not guarantee performance under test conditions. Dell does not represent that this product meets United States Department of Defense requirements for military use.
7 Based on Dell analysis, March 2020
8 Source: IDC Worldwide Quarterly PC Monitor Tracker, Q1 2020
9 Based on Dell internal analysis of competitive products using publicly available data as of February 2019. Power Delivery of up to 130W when used with compatible Dell systems. ExpressCharge Boost is available on select Dell systems.
10 Within Dell Power Manager software, selecting ExpressCharge™ can recharge system battery from 0% up to 80% within 60 minutes. After charging has reached 80% capacity, charging speed will return to normal speed. Recommended for use with the provided Dell power adapter; not recommended with a smaller capacity power adapter. Charging time may vary +/-10% due to system tolerance. Dell ExpressCharge is only enabled with Dell laptops and when system is asleep or in off mode.
11 System requirement: Bluetooth Low Energy technology.
12 Based on Dell internal analysis of battery life usage model calculations and 3 million keystrokes per year, Nov. 2019. Results vary depending on usage and computing conditions.