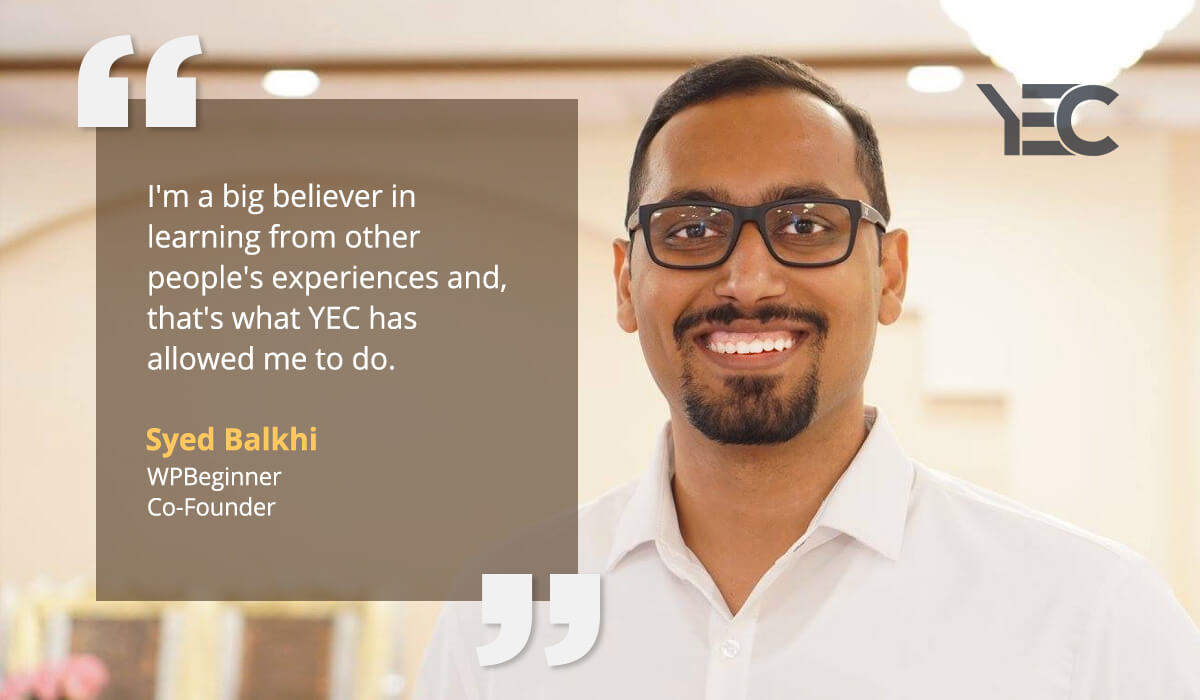 Syed Balkhi Taps YEC Network for Advice, Connections, and Visibility
What do you do when you're a young teen and you need some pocket money to buy Mountain Dew and hang out with your friends? If you're Syed Balkhi, you start a little business buying and selling domain names. You then become a very popular kid by figuring out how to bypass your school's firewall so that you and your friends can play games. One thing leads to another, and you ultimately find yourself at the helm of an eight-figure online business.
Of course, entrepreneurship rarely happens that way, but it did for Syed, CEO of Awesome Motive, an umbrella company for a suite of products that "help small businesses grow and compete with the big guys," says Syed. Approximately eight million websites now use the company's products for its software and training videos that help boost traffic, email subscribers, and revenue.
Syed's first product was WPBeginner, a WordPress resource site designed for non-technical users who want to get started on the platform. "WordPress is the most dominant content management platform on the planet," says Syed. "More than a third of the websites on the Internet use it." Next, he either built or acquired several WordPress plugins to address other customer needs: OptinMonster is lead generation software; MonsterInsights is a Google analytics plugin; WPForms is a drag and drop form builder; and SeedProd is a "coming soon" and maintenance mode plugin.
"I'm a big believer in learning from other people's experiences and that's what YEC has allowed me to do."
Awesome Motive's visibility and success in the WordPress ecosystem attracted interest from entrepreneurs who wanted to partner with the company. "The problem in this space is that a lot of venture capitals or traditional investors simply don't understand the WordPress market," says Syed. "And these businesses are small enough that it's not exciting for private equity." So last year, he launched WPBeginner Accelerator to invest between $100k to $500k in a small number of WordPress focused businesses. "We take our playbooks and share that with the companies we invest in," says Syed.
Initially, says Syed, he looked at YCombinator's process for guidance in developing selection criteria, and then announced the accelerator launch on the WPBeginner blog. "I wasn't really sure if it would work," he recalls. But he received 90 applications and ultimately invested in five companies. "I had them fly to our headquarters in Florida and then worked through the business, dissected it, and showed them what we were doing," says Syed. Now, he does Zoom calls with the accelerator companies every other week to tackle challenges, check in on progress, make introductions, and help with strategic partnerships.
A member of YEC since 2014, Syed initially joined because a friend told him that the group was great for networking. "But when I joined, I found out that there's a lot more to it," he says. Syed contributes to Expert Panels through YEC's publishing partners, and he thinks his participation has paid off not just in terms of PR, but also in business development. "I write thought leadership content and then people find me because the media brand tweets it. When people see it, they dig deeper, find out what we do, and then come to us as customers."
The YEC online forum has also been invaluable. When researching solutions providers, such as payroll companies or recurring subscription platforms, Syed often consults the forum to get insights that help him make informed choices. "I want to hear from people I trust, and who would you rather trust — some random review online or a peer in a selective group? I'm a big believer in learning from other people's experiences and that's what YEC has allowed me to do."
YEC has also provided Syed with connections that help him do business more efficiently. For instance, a fellow YEC'er provided him with a contact at Getty Images for negotiating a contract. And when he needed help with Google analytics API integration, another member introduced Syed to a key contact at Google.
Syed gives back to YEC by being an active participant on the forum, answering questions, and frequently offering discounts to members. And because he understands first-hand the value of membership, he has almost all of his WPBeginner Accelerator portfolio companies in the group as well "so that they can network among themselves and make connections."