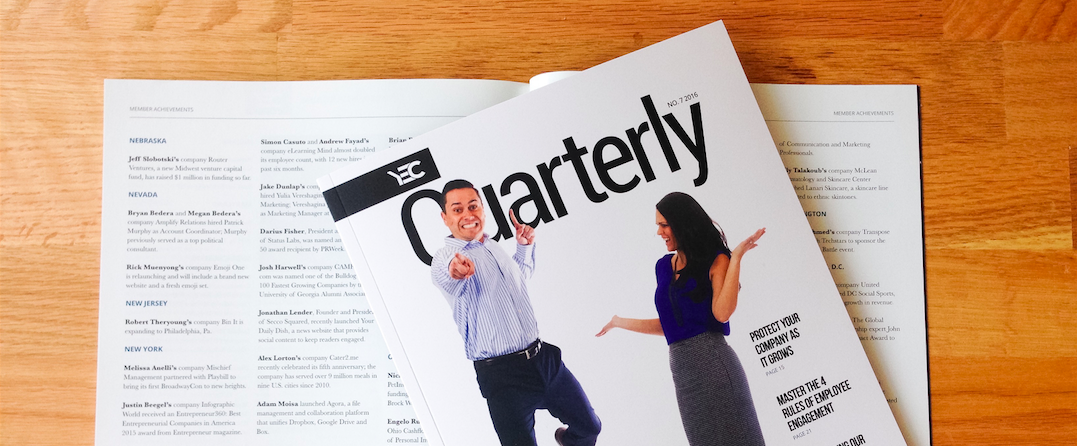 YEC Members Offer Advice on Protecting Your Company as It Grows
Human resources software company Zenefits had everything going for it. Within a year of its 2013 launch, it had raised over $80 million from leading VC firms and gained over 2,000 client companies across 47 states. By 2015, it reached a $4.5 billion valuation, making it one of the fastest-growing SaaS businesses ever.
Then came the Washington inquiry. An insurance commissioner suspected Zenefits of operating in Washington state without a license and launched a full investigation. It would later be discovered that its sales representatives routinely sold insurance policies without the required state licenses. Former Zenefits CEO Parker Conrad resigned after failing to meet compliance measures, and David Sacks, the previous COO, stepped up as the new chief executive to try to turn the company around and regain the trust of Zenefits' customers.
"Compliance is like oxygen. Without it, we die," Sacks emphasized in a company-wide email published on Business Insider.
The Zenefits fiasco is a cautionary tale to rapidly growing companies. Part of the problem with hyper growth is the difficulty business owners have with managing the influx of regulations while running their business.
YEC'er Zach Robbins is familiar with the challenges of scaling a business. His company, Leadnomics, a digital marketing and technology company, ranked 26th on the 2012 Inc. 5000, an annual list of the fastest-growing companies in America. Since then, it has become a parent company to a number of marketing and customer acquisition firms.
When asked why founders typically fail to comply with legal requirements, Robbins responded: "There are far too many regulatory changes to keep track of while simultaneously running a business. You'd have to become an expert in these areas, which you simply don't have the time to do. It's important to be proactive, rather than reactive, in addressing risk. To avoid pitfalls, get the right legal experts in your corner to advise you before problems surface."
Compliance is about more than following rules -- it's about protecting your business and everyone involved. If you want to successfully scale your business, you need to arm yourself with the right professional expertise, from HR representatives to insurance brokers, legal experts and patent professionals — before you receive an official government letter or find yourself facing a lawsuit. We asked YEC members who are experts in these respective fields for a breakdown on the most common hurdles and how you can protect your business.
Outsource Your Human Resources
When YEC'er Alex Riley, CEO of staffing agency MeritHall, first expanded his company beyond its base in Michigan, he wasted no time researching potential setbacks. He spent days reading state-specific HR law and the common business challenges of expanding to a new region.
"When you combine your experience with those around you and incorporate that into your decision-making, you'll reduce the chance of an issue coming out of nowhere," he says.
Riley suggests joining associations related to your industry for a basic understanding of the regulations that may apply to you. He says, "Nearly all [associations] have legal and political sides that will give you advice on particular topics and will ultimately help shape the laws in your industry."
Among common offenses — especially in blue-collar industries — are the miscalculation of overtime pay, misclassification of employees as independent contractors, and violation of prevailing wages. Says Riley: "We've known several companies that have been forced to issue backpay to employees or pay substantial fines. Most of the time they don't even realize what they are doing is incorrect." Part of MeritHall's job is to make sure clients are not only aware of those rules, but adhere to them. "Otherwise, we both get in trouble," he says.
Business owners should also be aware of laws that become applicable as they increase the number of employees, as well as the costs involved. For example, the Family and Medical Leave Act (FMLA) takes effect once you hit 50 employees. Robbins describes two options: "You may be able to get less expensive health insurance per staff member, but at the same time, you'll need to hire more administrative personnel to address the needs of the business and its employees." Have an accurate assessment of how costs will change as you scale from 2-10, 11-50 and 51-100+ employees. Then, you'll know if you're ready for the next stage of growth.
But let's say you already have a large employee base. How can you make sure everyone is on the same page with company policies? Consider writing an employee manual, and include an explanation of local labor laws, expectations of employee conduct, safety regulations, benefits, non-discrimination policies and more.
For the latter, Riley finds it simpler to understand the basic concepts that govern HR law, rather than memorize nuances. He asks himself three questions to avoid unintentional discrimination:
Does it matter in the context of a candidate/employee performing his or her job?
Does it have a disparate impact on a protected class?
Does it cause disparate treatment (i.e. Am I treating this person differently based on the group he/she belongs to)?
It's a good idea to have an attorney read your employee manual in case you've overlooked something. Keep in mind that procedures that worked when your business brought in $5 million in revenue may not work once it hits $20 million. You'll need to adapt, and when all else fails, communicate with your employees. "Once you notice a problem, your first job is to talk to employees who know what that problem is. Oftentimes, they can help you write a new policy," he says.
If you find the HR process is exhausting your time and energy, Riley's solution is simple: "Outsource everything that isn't your core competency."
He took the long road in learning this. He thought he'd save his company a ton of money by developing internal HR software when he first started — after all, he had a background in engineering. But after constantly having to add new features, the return on investment simply wasn't there. "It became a nightmare," he says. "I was running my own company within a company."
Then, it finally clicked. "As a business owner, there are certain things that you just don't have time to deal with… That's why you outsource. Remember, your business exists because your customer is outsourcing some portion of their business to you. Everyone does it," he says. MeritHall now uses third-party HR software. If you're in a similar situation, entrust those responsibilities to an expert. It will take pressure off your shoulders so you can focus on moving your business forward.
Find the Right Insurance Broker
YEC'er Travis Holt is CEO of Brush Creek Partners, a full-service insurance firm and brokerage. His company recently launched a website that addresses insurance and risk management needs for companies at every growth level -- including those that are scaling rapidly.
Says Holt: "We first look at things from a legal standpoint — do you provide anything that necessitates an insurance policy?" Health care technology, for example, deals with sensitive patient information and, so, carries significant penalties and fines in case of data breach. For this and other heavily regulated industries, it's best to get insurance coverage on day one. Low-risk companies, on the other hand, such as those with few employees and no financial tech or healthcare IT, have more leeway.
Here's what Holt can't emphasize enough: "Get a professional." If you're relying exclusively on online research, you may have difficulty finding an answer — or get buried under jargon or a surplus of conflicting advice. Conversely, "a professional can answer that in five minutes," says Holt.
Of course, you need to have a realistic understanding of the financial costs of protecting your business, and charge accordingly for your product or service. "Take insurance cost into account when deciding what you charge," says Holt.
If you're cringing at the thought of a hefty price tag, consider this: having an insurance broker can also save you a ton of money. Holt explains, "An insurance broker can navigate contractual requirements and negotiate provisions to a level that actually mirrors the risk that your software is providing. If you can get a $10-million requirement down to $2-3 million, that's going to be a lot more doable."
So, how can you match yourself with the right broker who will help you time and again? "Check references from the specific industry and growth stage you're in," says Holt. The latter part is especially important because the needs of early-stage businesses are vastly different from those of Fortune 500 companies. Talk to founders of other rapidly scaling businesses and see who they've worked with.
"If there's an organization that you're part of, let's say, a startup incubator or trade association, see if there's anyone who specializes in rapidly growing or emerging tech," Holt says. "Ultimately, surround yourself with a group of professional service providers who understand your business and who can do more than just sell a product."
After that, trust is key. You've hired professionals for a reason, so let them handle the grunt work while you focus on your business.
Get Legal Counsel — And a CPA
Once a quarter, entrepreneurs have the chance to get pro bono legal expertise at Smith Simmons, a law firm with offices in Oklahoma and Texas. These days are affectionately called "Startup Fridays," and they're a way for the attorneys to give back to their community by supporting small businesses. YEC'er Chris Smith, Managing Partner of Smith Simmons, says: "If you're interested in helping small businesses, part of that is to make sure they're not being choked — revenue-wise — on legal fees in the beginning."
Smith regularly gets questions about everything from regulatory issues to becoming an LLC or corporation, filing with the Secretary of State, opening a bank account and more. He recommends two key steps. The first is to hire a CPA, and the second is to hire an attorney. "Hire in that order," Smith adds. "Even as an attorney, I think a CPA is the most critical thing for small businesses."
It's especially important for those that are rapidly growing. As you scale your team, you'll come across compensation issues, tax issues and other employee-related matters. "A CPA is going to help you navigate that," says Smith.
Look for a CPA and an attorney that have experience with startups. They'll be well-versed in the costs of growing a company; a lot of small business attorneys even offer a monthly billing option instead of traditional hourly billing. Says Smith: "At our firm, we quote [business owners] based on the hours they're going to need and the things they're going to need to get done and give them a finite quote so they can budget their costs. Then, we make sure to provide beyond what they're asking or paying us for."
Work with your attorney to understand the legal risks to which your industry is prone. Considering the countless risks in the digital economy, for example, where consumers are paying for another party's services, there's been a spike in phishing efforts to collect against users of copyrighted or licensed material.
This leads to trouble for many digital marketing agencies. In fact, many of Smith Simmons' cases surround licensing claims. Agencies will purchase media from a third-party service to use for a client's website, and they'll later receive a letter from that service demanding money from their client to use its copyrighted material.
Says Smith: "We've seen clients cut the third-party service a check because they're scared they'll get sued. That's why we're working with agencies to make sure they have the proper paperwork and maintain a purchase history to back them up in case something like that happens."
Let's say you do make an illegal move. After all, something is bound to slip through the cracks while you scale your business — what then? "Immediately seek legal counsel from a qualified attorney in your geographic and business area," says Smith. And do this before speaking with authorities. Disclosing any information before consulting your attorney may only harm your case.
We asked Smith what seems to be the root cause of most of his cases. He says: "Most of the problems that arise with any small businesses are associated with the partnership — the partners don't agree on what needs to be done, where the money needs to be spent, whether or not to sell the company or product — those are the biggest issues we see."
The best way to avoid partnership issues is simple. "Have an agreement," says Smith without hesitation. "I don't care if it's written on the back of a napkin. Just have an agreement." Written terms will quickly put a dispute to rest and save you a lot of headaches down the road.
Protect Your Inventions
Legally speaking, you're not required to protect your intellectual or digital assets. But it's a mistake to think you won't be susceptible to copycats until after your business takes off. Many founders underestimate the complexity and time involved in getting a patent approved by the USPTO. Whether you're considering trademark, patent or copyright protection, you need to start now if you want to protect your intellectual property later.
YEC'er Dan Hussain is the founder of American Patent Agency (APA) and has issued over 20 patents on his own inventions. APA goes through a diligent and nimble process — one of its clients, newly acquired by software giant Salesforce, took just a matter of days to issue its patents. But the timeframe of issuing patent protection varies greatly depending on the service you use. Says Hussain: "I just spoke yesterday with the Salesforce in-house legal team, and they told me that another company they acquired filed for a patent 11 years ago — and it's still not approved yet."
That's why it's important to go through the right patent representative. According to Hussain, you want to choose one with technical expertise. That means looking beyond legal credentials. Your representation should also have experience in small business. "This is critical because the legal fees and expenses can quickly grow out of control, and the patent process can drag on … unless the representative has experience dealing with intellectual property matters specifically for startups or new inventors," says Hussain.
If you haven't hired a patent representative yet, you can still draft a description of your invention yourself and file it online with the USPTO as a provisional. It's a good idea, however, to consult a representative who can review your application for cost-effectiveness, according to Hussain. He or she will be able to secure a priority date for you. "A patent agent can structure intellectual property filings in a way that will maintain your IP for the long haul," he says.
Due diligence is one thing you don't to skimp on when scaling your business. No company is immune to regulatory oversight or legal troubles, as we've learned from Zenefits and other big startup names that have recently been in hot water.
"Essentially, large, well-established companies can miss the mark sometimes — even with huge legal teams," says Robbins. That's why he has taken care to stay on top of legal measures as he grew Leadnomics and the numerous agencies he started thereafter.
The trick is hiring the right representatives to get you cost-effective protection. You'll save more money down the line and prevent yourself from agonizing over whether your business is compliant.
---
This feature originally appeared in YEC Quarterly, a print magazine for YEC members. YEC Quarterly is no longer producing new issues.