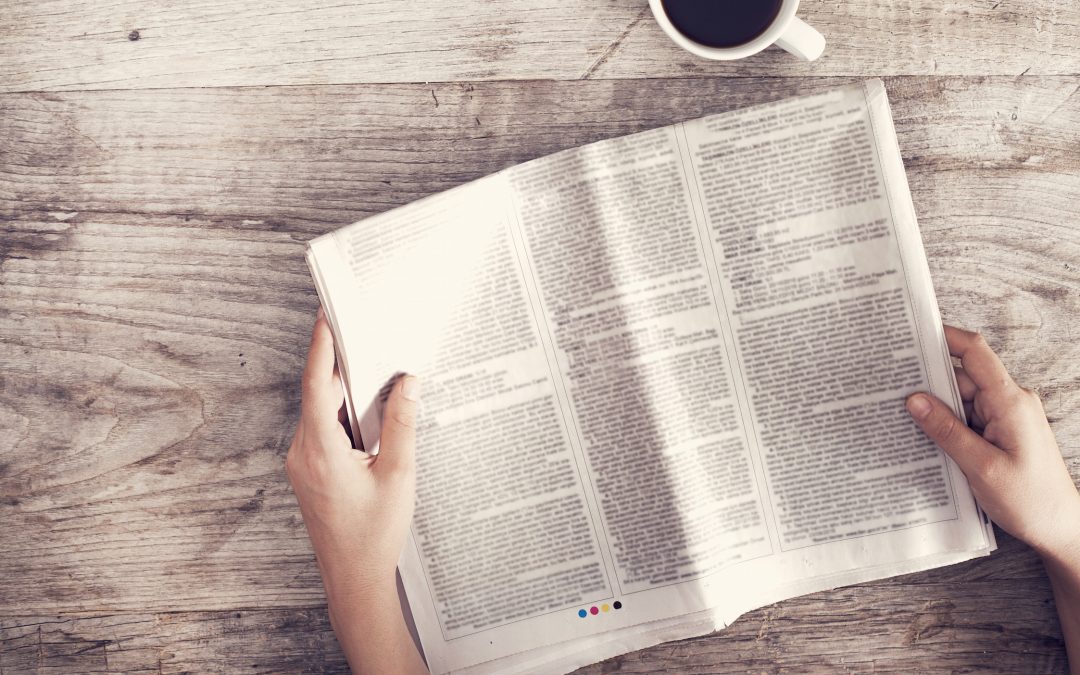 Should You Write an Article Inspired by the Headlines? 5 Questions to Help
We've all seen headlines that riff on the news just to command more eyeballs. For better or worse, it's a common tactic.
But for business leaders, it's not always clear cut as to when (or whether) to use current events to your advantage. When it works, your brand becomes part of a bigger conversation; when it fails, it fails badly. (Here's a now-classic example from social media.)
So how do you decide which conversations need your perspective?
First, remember that your goal is to share your expertise and build trust with your target audience. Every time you consider a new topic or a fresh angle on something you know deeply, you have to ask yourself whether it will help move the needle with the people you are trying to reach. If not, move on.
If you think you've hit on a topic your audience cares about and you want to add your voice to the mix, the next step is making sure you do it right.
If that's you, here are some questions to ask yourself:
Have I done my research?
First things first: Make sure your commentary is based on the most current and trusted information you can find.
What's the shelf life of my topic?
Next: Will your article be dead in the water tomorrow, or does your tie-in have some legs? If you're investing time and resources into writing and marketing your content, then it doesn't make sense to focus on a single timely story that won't be of interest in 24 hours.
Instead, look for big, world-changing issues that impact your industry.
Think: How the gig economy will change in the new year as the freelance workforce continues to grow. The role of artificial intelligence and machine learning in marketing. How cybersecurity concerns are evolving in the workplace given some of the major breaches suffered in the last year.
Those are meaty and provide a good opportunity for thought leaders (in the right industries) to offer predictions, insights and opinion on what's next -- and they don't expire immediately.
Am I the right person to write about this?
Tying your perspective to something current makes good sense when it's in your wheelhouse. Picture an HR expert dissecting the Zappos holocracy experiment, for example. But what about linking your article to a news story that has nothing to do with your industry or business at all?
It's not impossible, if you do it right. Taking something in the headlines and inserting yourself or your brand into the story is also known as "trendjacking" or "newsjacking." For instance, a PR expert might write "6 Viral Marketing Tips We Learned From Beyoncé's 'Lemonade.'"
But this can go horribly wrong too, especially when you're trying to insert your perspective on a sticky topic. (Religion, politics and disaster all come to mind.) In a HootSuite blog on the subject, the very first piece of advice is: "Add value without compromising your brand."
Enough said.
Will this attract the RIGHT eyeballs or just MORE eyeballs?
If a certain hot topic — a recent celebrity's public gaffe, a political power grab — doesn't clearly impact your business, your industry and your customers, it's probably not a good pick unless you can make a strong and informative (or entertaining) tie-in that matters to your audience.
While it may seem like there's a big short-term benefit to using trending news in every article you write — for a while, it seemed like anything with the word "Trump" in it got shared on social media — if the traffic you're attracting isn't in your target demographic at all, what's the point?
Am I simply ranting, or is my insight going to help change someone's mind?
On a related topic: When there's big news, especially politics, we all have an opinion, even your Uncle Bob. But does your target audience really want to know yours? And are you alienating customers, clients, hires and team members by sharing it? I think you'll find that controversial opinions, politics and negativity are all best kept out of the spotlight, especially when you're representing your business. (They are also against our editorial policy.)
On the other hand, if you are offering a fresh and genuinely unique perspective on an issue while remaining neutral on hot-button topics, you're acing it. For instance, sharing your top 10 predictions for the near future of healthcare technology if the ACA is repealed.
One final point: The best way to tie newsworthy trends or issues to your own view as a thought leader is to read and then read some more. That way, you can make sure that you're bringing something unique and insightful to the table — and you'll always have a source of information handy when you need it.
---
This post is part of a series created by Lindsey Donner, chief content officer for YEC, on how to best utilize your personal branding and media benefits.