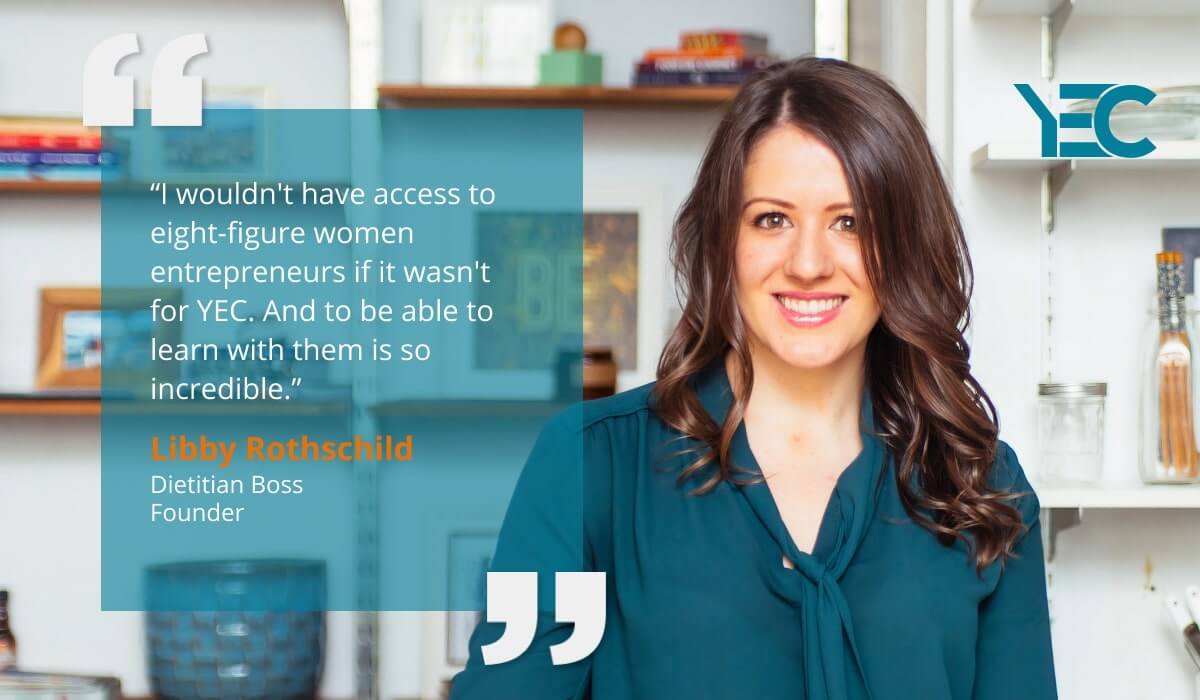 YEC Gives Libby Rothschild Access to a Peer Group of Successful Female Entrepreneurs
As a clinical dietitian, Libby Rothschild experienced two career pain points: after years of education and training, her $55,000 salary (typical in the profession) just barely covered her bills; and she felt ignored and unimportant in the hospitals where she worked. "I started my business because I was underpaid and overworked, like many dietitians," Libby says. Her company, Dietitian Boss, provides young dietitians with a roadmap for breaking the cycle of low pay and low impact by following the same entrepreneurial path that Libby blazed for herself.
While she was still doing clinical work, Libby began speaking, teaching, and consulting; she even got a second job at another clinic to boost her income. She also spoke to organizations such as a local New York City union, The American Lung Association, and The American Heart Association. A friend, impressed with the way Libby had cobbled together various income streams, suggested that she share her wisdom on social media. When she did that, she began receiving coaching requests from other dietitians. "I really went on social media to build community and it turned into a full-time business," Libby recalls. "I ended up coaching other dietitians and then the demand was so high because there wasn't anybody doing what I did. I really pioneered that space to provide support for dietitians to make additional revenue streams."
When demand for her services increased, Libby started running group programs for dietitians and three years into what started as a side gig, she decided to devote 100% of her time to her business. Now, she has a staff of seven in three countries and has served more than 1000 dietitians through courses, coaching, and her group program. "I help dietitians start and grow their business by leveraging social media," says Libby. "And I've created a proprietary four-step process to help them do that."
All of Libby's clients, most of whom are new to the field and "struggling with insecurity," find her through social media. "Our ideal client is in her first year in her clinical job. And getting paid under $60,000 a year," says Libby. "She wants to become financially independent, and she wants to practice nutrition based on her philosophy and feel like her work matters."
"[Through YEC] "I've found peers who are innovative and really able to think about scaling. That's been really exciting for me."
Libby teaches her clients how to differentiate themselves by identifying the specific communities they want to serve, and then marketing to those potential clients via social media through content marketing. "I'm a believer that service professionals should build a personal brand," says Libby. "So I help my clients show their faces." She then teaches them how to create a six-week online group class, and then coaches clients on how to enroll interested prospects into their classes. Libby also offers a more advanced program that teaches dietitians how to manage and scale their businesses, retain clients, and hire employees. "We show them how to hire and manage staff, and how to develop a higher-level strategy so that they can work fewer hours per week without compromising profits," Libby says.
Within 16 months of starting her business, Libby grew Dietitian Boss to over $1 million in revenue. During the pandemic, she says, "a lot of people were disgruntled and wanted to start a practice and try something new because of what was going on in the world." Within her own organization, though, Libby says "our biggest challenge is making sure we've got the right people that can meet the KPIs that we've set to execute our growth plan." She attributes the hiring difficulties to the "great resignation." Many of her entrepreneurial peers are experiencing the same difficulty.
Through YEC, Libby says she has "found peers who are innovative and really able to think about scaling. That's been really exciting for me." She's involved in breakout groups and has found the women's group particularly helpful. "Only 3% of millionaires are women, so it's been challenging for me to find female peers and peers that are under 35 years old," Libby says. "I wouldn't have access to eight-figure women entrepreneurs if it wasn't for YEC. And to be able to learn with them is so incredible."