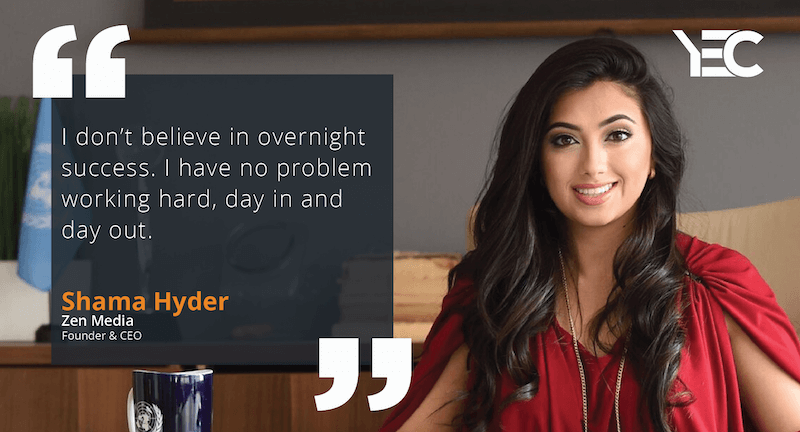 Spotlight: Young Entrepreneur Shama Hyder
If you work in digital marketing, you have probably already already heard of YEC member Shama Hyder. She's the CEO of an award-winning marketing and PR firm, Zen Media. She's the bestselling author of two marketing titles — The Zen of Social Media Marketing and Momentum: How to Propel Your Marketing and Transform Your Brand in the Digital Age. And she's a keynote speaker who has delivered addresses in over 20 countries.
Shama has been recognized for her work by the White House, the United Nations, Business Week, Forbes, Inc., and LinkedIn, among others. She has been named the "Zen Master of Marketing" by Entrepreneur Magazine and the "Millennial Master of the Universe" by FastCompany.com. As she says, she wears a lot of hats.
Below, we connect with Shama to learn a little more about her work, her perspective, and her daily life.
On Her Work With Zen Media
Zen Media has evolved quite a bit over the years but its fundamental mission has stayed the same: to help brands and leaders thrive in the digital age.
Zen Media is a social-first digital marketing agency committed to helping forward-thinking brands stay relevant and get ahead. Our clients range from Fortune 100s to start-ups. We've turned crisis into PR gold for Dippin' Dots using social media, helped mobile game phenomena Cooking Fever get to 6 million users using influencer marketing, led multiple successful campaigns for the US Navy using video storytelling, and produced Chase for Business' BizMobile as the ultimate in experiential campaigns.
We know that succeeding in the digital age takes more than just technical expertise and creative skill. It takes a keen understanding of the connected consumer, the digital landscape, and a savvy mix of marketing and PR.
On Humans at Their Best
The best part of my work, hands down, is the clients we work with and the trust they show us! Their support truly means the world to me.
I am inspired by acts of kindness and compassion; everyday people who turn into heroes because they do the right thing. It truly is awe-inspiring.
On Ups and Downs
I don't believe in overnight success. I have no problem working hard, day in and day out. When the journey is just as beautiful as the outcome — that's success to me.
Just like in nature, everything ebbs and flows. There are highs and lows, and you have to be able to ride them out. Be grateful for your highs and graceful in your lows.
Tidbits:
What's on your desk besides your computer?
A glass of water, books ... lots and lots of books stacked up, my Kindle, and my phone.
What is your spirit animal?
The phoenix, which rises from the ashes to reinvent itself time and time again.
Who is your personal hero?
I have too many to list. My teachers and professors who believed in me and nurtured my abilities are on top of that list.
Favorite dessert?
German chocolate cake. Chocolate anything, really.
Historical figure you wish you could meet?
Jesus.
What are you reading right now?
The Laws of Human Nature by Robert Greene
App you can't do without?
WhatsApp. It's how I communicate with everyone.
Place you'd most like to visit?
Japan.
Favorite artist?
Current favorite: James Arthur
Best day of your life?
My 33rd birthday in Paris. #ParisIntheSpring