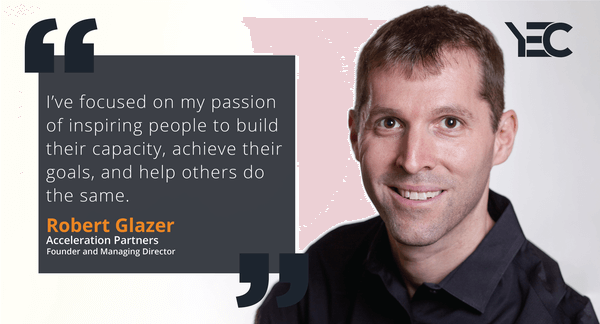 Spotlight: Young Entrepreneur Robert Glazer
Meet YEC member Robert Glazer. He's a business founder and CEO, a best-selling author, and a father of three. He also publishes a popular weekly newsletter and a podcast.
Robert is the founder and CEO of Acceleration Partners, a global performance marketing agency. The company has won a plethora of awards for its excellent affiliate marketing programs, inspired by an innovative model in which companies pay for outcomes and not inputs. Robert is thriving along with his company; his employees rate him so highly that he landed on Glassdoor's top small and medium business CEO list for 2018.
To some, Robert might be better known as the creator of Friday Forward, an immensely popular weekly newsletter packed with leadership tips and inspiration. He's also the author of the international best-selling book Performance Partnerships and the upcoming Elevate.
Below, see what Robert has to say about achievement, leadership, and building your best life.
On Achievement
I think success and achievement are two different things, and I think of achievement as ultimately more valuable. I think a person can excel at something and be perceived as highly successful, but if their work doesn't align with their core values, they will likely feel unfulfilled.
By contrast, I think it's vital for a person to figure out their purpose and core values, and to dedicate themselves to pursuing goals that lead toward that purpose. I think reaching goals that connect to your core purpose is the most fulfilling possible achievement.
I'm inspired by the achievements of others, from people always pushing their limits like Tim Ferriss, to the remarkable people on my team at AP, to my three children, Chloe, Max, and Zach, who inspire me to be better every day. Seeing others reach their potential is a reminder of what we can do when we have the proper motivation, guidance, and consistent effort. Their stories motivate me to live according to my core purpose and values, to never stop improving my capacity, and to inspire others to do the same.
The clearest path to high achievement is building your capacity incrementally, specifically in four elements: spiritual capacity (purpose and values), physical capacity (energy and health), intellectual capacity (knowledge and pursuit of learning), and emotional capacity (empathy and compassion). I've worked on building my capacity in this way and helping my team to do the same, and I've seen the results as employees have met their personal goals and seen their professional outcomes improve as well. The opportunity to share these ideas and help others is one of the best parts of what I do.
On Leadership
As an entrepreneur, my instinct was often to try to do everything myself, but it is far better for Acceleration Partners and for me if I avoid that tendency. In the early years of AP, I was filling several roles at once and completely maxed out, and while the company was growing, it was only a fraction of what it is today. Over time, I've focused on more sustainable strategies like installing a company culture with clear and consistent core values, hiring the right people, and trusting them to carry out the company vision. Doing this not only grew the business more than I ever could alone, but it also freed me to focus on more fulfilling passions like leadership, capacity building, and inspiring others to improve.
Over time, I've focused on my passion of inspiring people to build their capacity, achieve their goals, and help others do the same. This is the focal point of the Friday Forward and my upcoming book, Elevate. I think there is a need for this type of practical inspiration, especially when it is paired with an actionable framework that can help people take tangible steps to achieve their goals.
I love working to define the culture and strategy for AP, set the vision, and help coach and develop our next generation of leaders.
On Priorities
As legendary management expert Peter Drucker wrote, "there is surely nothing so useless as doing with great efficiency that which should not be done at all." What's been so important to me over my career is knowing what people and goals are deserving of my attention, and which ones I need to let go. Ultimately, capacity building is about determining where you invest your energy. Once I figured out how to dedicate myself fully to things that were most important to me, and to move away from things that ultimately didn't help me reach my long-term goals, so much of my life fell into place.
Here are a few habits that have made a huge difference in my life:
I use a self-actualization and accountability tool I created called the Whole Life Dashboard. It logs my core values and long-term goals, and I use it to make sure that I map my daily life to pursue them. It's a valuable tool for keeping the big picture in mind and doing a little bit for it each day.
I'm a huge believer in the value of morning routines. Mine is similar to Hal Elrod's SAVERS routine. This advises people to begin their day earlier and to spend the first 30 to 60 minutes of their day on positive activities like meditation, exercise, reading, and journaling.
I'm committed to my health and physical resiliency, so I regularly engage in both cardio and strength exercise, while also paying close attention to my diet.
I never stop learning. I try to read 25–50 books a year, and am a member of several organizations and mastermind groups focused on learning and personal improvement.