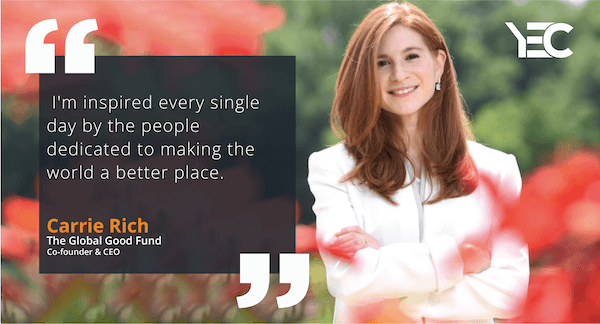 Spotlight: Young Entrepreneur Carrie Rich
Meet Carrie Rich, CEO of The Global Good Fund, a nonprofit organization that supports high-potential social entrepreneurs in more than 25 countries. The organization identifies leaders whose ideas have great potential, pairing them with coaches and mentors, and investing in their work. Thus far, The Global Good Fund has sponsored 105 entrepreneurs from 30 countries, raised over $65 million, and is on track to impact 10 million lives by next year.
In addition to her work with The Global Good Fund, Carrie teaches "Fundraising for Social Impact" at The Amani Institute, a social enterprise in Kenya and Brazil that provides post graduate education for change makers and aspiring social entrepreneurs. She also sits on both nonprofit and for-profit boards, co-owns a retail boutique, designs jewelry, is a mother of two, and has co-authored two books on leadership.
Below, we share some of Carrie's leadership tips, as well as her thoughts on connecting with others and making an impact in the world.
On Connecting
I was privileged to have a boss who was also a phenomenal human being who invested in me, sponsored me, and pulled me up in ways most young professionals only dream of. That privilege made me realize that it would be a gift to entrepreneurs to pair people like me with mentors to make the world a better place.
I'm transparent. I tell people what's going on. I follow through and follow up. I've been plenty surprised by how well received follow-through is. Doing what you say you're going to do seems so obvious, but many people don't. If someone makes an intro for me, whether I meet this person in person or speak to them over the phone, I always send a follow-up note to both the person I just met and the person who made the intro, sharing key takeaways.
On Leadership
I care that my people are on board. It matters to me what my inner circle thinks; otherwise, I'll do what I think is right, no matter if the rest of the world thinks it is. As we grow, I'm learning that there's an increasing need to sell a vision. When we were getting started, it was all execution all the time. Now, we need to sell the vision and explain things internally in order to grow the organization.
Something else helping me right now is learning to value my time. There comes a point in life where you can't do everything, but everything still needs to get done. It's about learning where to outsource and learning to let things go. Let it go. Have the discipline to not do everything on your own.
On Making a Difference
I'm inspired every single day by the people dedicated to making the world a better place. I get to work with the most amazing humans on the face of this planet. Because we're a leadership development organization, my job is to invest in my own leadership as well, so I'm constantly growing, while helping other people fulfill their potential.
To date, The Global Good Fund has served 105 fellows from 30 countries who have collectively impacted the lives of 8.5 million people. At the end of the day, I know we're just getting started, but knowing there's a woman on the other side of the planet whose kids get to go to school, or an elderly person being taken care of, or that the air is a little cleaner … that's all I need in order to know I'm doing my part in making this world a better place.