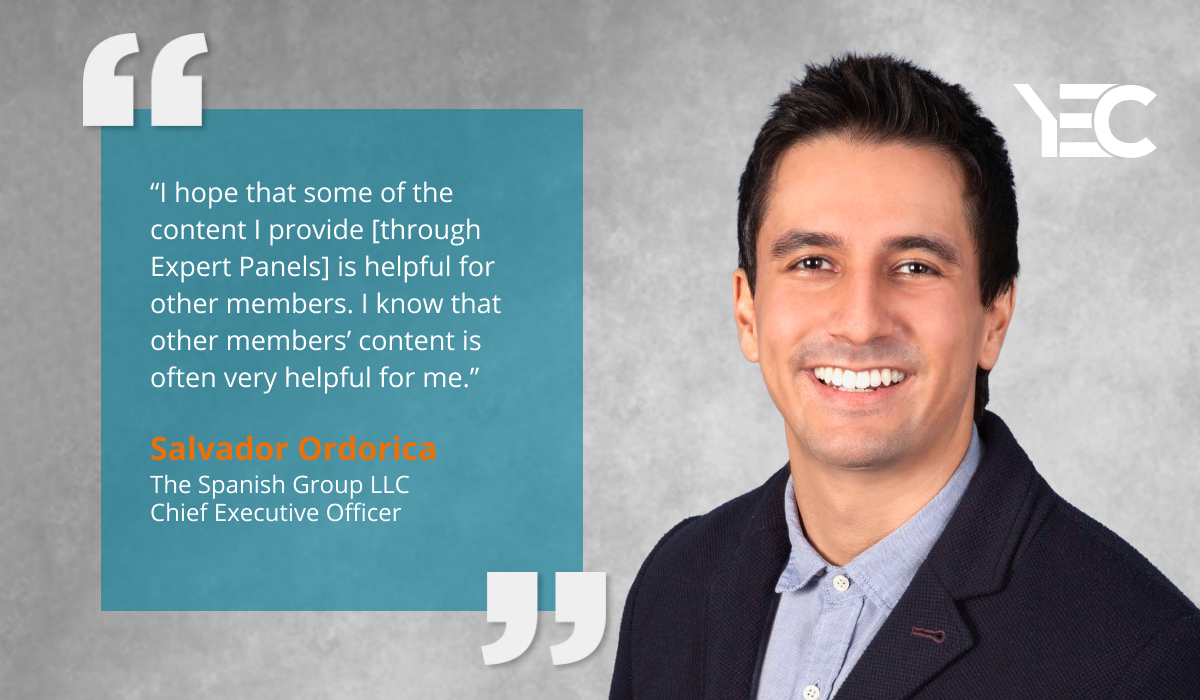 YEC Advice Pays Off With Business Leads For Salvador Ordorica
When he was in college, Salvador Ordorica had his heart set on becoming an attorney. However, his entrepreneurial spirit kicked in when he was in his junior year, and he started a translation service called The Spanish Group in 2012. He thought it would just be a side gig while he was finishing his studies, but the business took off with very little marketing effort from Salvador. "One day, I just decided to shut my LSAT prep book," he recalls. "I realized I had a promising business that was growing and that was really motivating for me. I decided to focus full-time on the business."
A variety of clients found Salvador's business through online search. Corporations, individuals who needed immigration documents translated, and eventually government entities all found their way to The Spanish Group. People often ask Salvador if Google Translate is a competitive threat. "I'm not really concerned about our certified translation services industry disappearing," he says. "Because somebody needs to be on the hook; somebody needs to be responsible for the content of the translations." Google Translate may be fine to translate informal communications such as an email from a German cousin, but when it comes to translating official documents that may be used in court or by governments, absolute accuracy is essential.
Salvador has 64 employees spread across 15 countries, as well as a workforce of more than 300-400 translators who work for the company. "We're very professional and we have extremely rigorous requirements for our translators and for pretty much everyone who works at our company," Salvador says. He notes that almost everyone is at least bilingual and that his certified translation agency offers high-quality service at a competitive price. While The Spanish Group started out with Spanish and English translation, the company now translates more than 90 languages.
As his company has grown, it's been important for Salvador to learn how to delegate and abdicate responsibility for tasks that others can perform more effectively. "I'm not a good customer service agent," he says. "I tried to be patient and polite, and I am always professional over the phone, but I do get frustrated," he says. Now, he has staff that are trained professional customer service agents and that department runs more smoothly.
"The value [of Expert Panels] to me is to be able to offer my perspective about multiple types of questions. I think a lot of the questions are pretty thought-provoking."
In the beginning of the pandemic, Salvador says that sales dropped by 50% almost overnight as economic uncertainty impacted the willingness to spend, but by June, business picked up. "People still had situations that arose during that time that required the translation of documents," Salvador says. "So that kind of just created a backlog and all those people just kind of kept trickling in over the next few months." And the nature of the translations changed to reflect current events. Restaurants needed sanitation protocols translated, and testing facilities needed COVID-19 testing instructions translated into various languages. Later, the company would translate informational newsletters from schools that needed to communicate safety procedures to reassure parents. "One thing that I really love about this business is that it's really in tune with everything that's going on in the world," Salvador says. "If a major news event happens, it's reflected in the translation requests that we get, or the type of documentation that people are requesting."
As a member of YEC, Salvador contributes thought leadership content that reflects his company's ethos. "We have a few themes and one is obviously translation," he says. "Others are diversity and multiculturalism, which we realized resonates with a lot of our target audience." Salvador says The Spanish Group employs people from a huge variety of religions and ethnicities, and "that's something I'm really proud of." When he contributes to Expert Panels, he says, "the value to me is to be able to offer my perspective about multiple types of questions. I think a lot of the questions are pretty thought provoking and I hope that some of the content I provide is helpful for other members. I know that other members' content is often very helpful for me."
He's also found YEC's online forum to be invaluable. For instance, advice he received from other YEC members prompted him to be far more focused with his company's social media efforts. He doubled down on LinkedIn and Instagram postings and is now seeing a huge increase in inbound requests for The Spanish Group's services. "We didn't really anticipate ever getting a stream of clients from social media," he says. "So that's a huge benefit!"