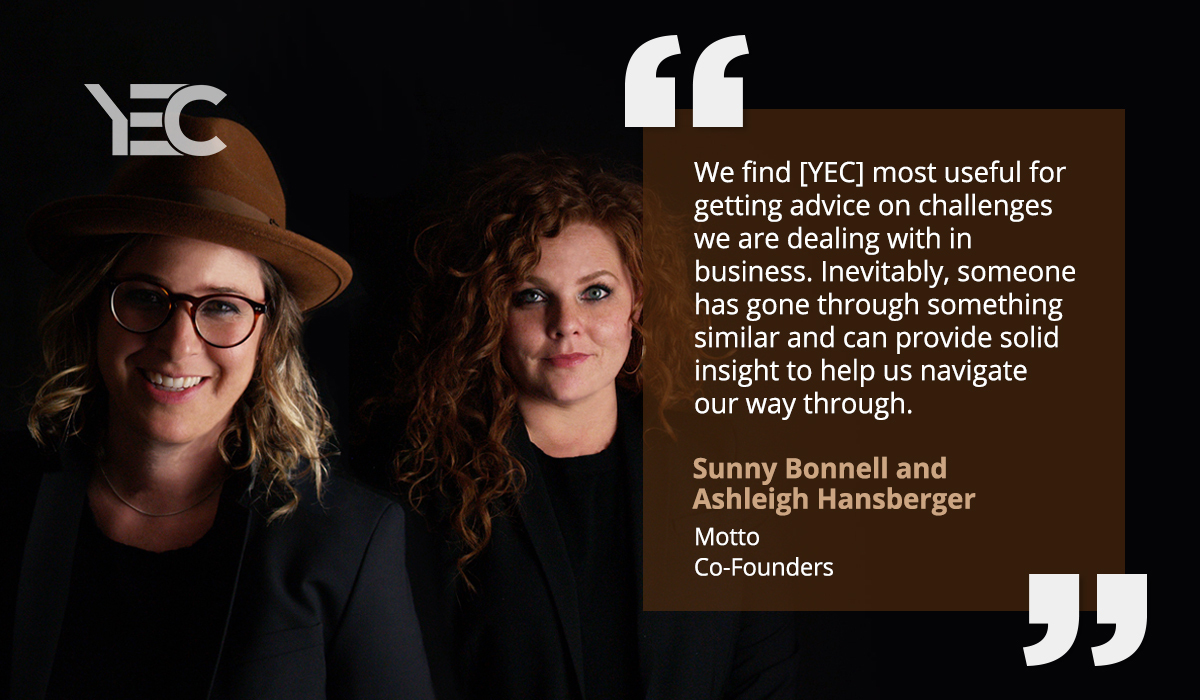 YEC Veterans Ashleigh Hansberger and Sunny Bonnell Transform Vices to Virtues in Their New Book
When Sunny Bonnell and Ashleigh Hansberger started their branding agency Motto, in 2005, they didn't fit the industry mold. But over the years, they learned a few things about how being different can actually be a superpower, and they share those insights in their new book, Rare Breed: A Guide to Success for the Defiant, Dangerous, and Different (HarperOne, September 3, 2019).
Is it a book about branding? Well, kind of. But more importantly, says Sunny, it's a book about identity, and pushing back against all the forces — societal, corporate, familial, etc. — that are hell-bent on defining your success their way. "I think a lot needs to be done in terms of allowing people to be fully who they are," Sunny says. "We're missing out on some very powerful and creative people, because we're telling [them] they cannot tap into the full spectrum of who they are — because we don't know how to deal with humans like that."
Ashleigh and Sunny identify seven "dangerous" personality traits — rebellious, audacious, obsessed, hot-blooded, weird, hypnotic, and emotional — and convincingly turn those vices into virtues. The message: if you're in the rare breed club, be brave enough to own it and use it not only to your own advantage but to make the world a little better.
That wisdom is equally applicable to brands.
"The way things are done in our industry leads to very homogenized, templated approaches to branding," says Ashleigh. But from Motto's early days, she and Sunny were determined to take a different approach — one that places a few more demands on clients but that is ultimately more authentic and effective.
Branding, says Sunny, is "the whole experience that a company delivers to its audience. So it has to speak to who they are, what they stand for, what they believe in, the stake that they put into the ground. And this way of treating a brand like it is actually a living, breathing thing was really important to us."
"There are a lot of CEOs who still don't understand their role as a leader in the success or failure of their business or brand. I think it's very important that we are always looking through the lens of the rebel because if you don't, it's too easy to blend in."
But not everyone saw things their way. The early days of Motto's entrepreneurial journey were filled with rejection and disappointment and, more than once, the founders considered throwing in the towel. And then Sunny's dad sat them down for a little truth-telling. "You two are a rare breed," he told them. "Not everyone will love you. Some may hate you. But the ones who get you will never forget you. Now, dust yourselves off and get back in the saddle." And so they did, and Motto evolved into a highly successful agency with a growing stable of clients.
In recent years, the partners say they've seen an alarming increase in CEOs who believe that branding is something they can hand off to an intern or a newly-hired brand manager. "We need to change the way that people think about brand, because traditional companies think brand is something that you leave to the marketing department," according to Ashleigh. But a brand should always be an extension of its leader's vision, she says. "There are a lot of CEOs who still don't understand their role as a leader in the success or failure of their business or brand. I think it's very important that we are always looking through the lens of the rebel because if you don't, it's too easy to blend in. There's too much noise."
Both Ashleigh and Sunny are long-time YEC members who value the group for business advice, press opportunities, and general camaraderie. They also participate regularly in the online forum. "YEC has a lot of quality people," says Ashleigh. "We find it most useful for getting advice on challenges we are dealing with in business. Inevitably, someone has gone through something similar and can provide solid insight to help us navigate our way through."