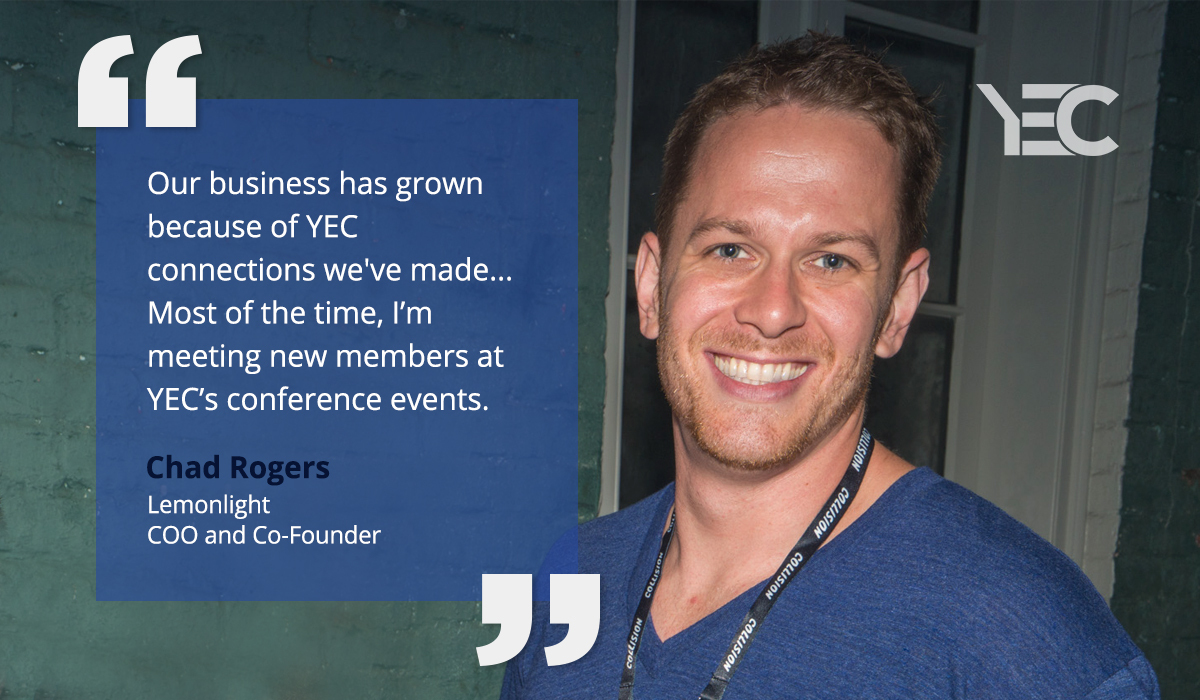 Chad Rogers Grows His Business With Connections Made at YEC Events
Back in 2014, when ad tech veteran Chad Rogers first teamed up with former co-worker Hope Horner and documentary filmmaker Daniel Marlow, online video content was pretty much limited to YouTube and outstream ads. Companies were still paying ad agencies enormous fees to produce commercials and the process was often lengthy and bureaucratic. The co-founders of Lemonlight saw an opportunity: as video became more and more popular, they reckoned, there should be a way to make the medium more accessible to small and medium-sized businesses.
"There was a need that no one was fulfilling," says Chad. "We knew these companies really needed to advertise but they didn't understand that they didn't have to spend tens of thousands of dollars on TV advertising. We could actually create a really high-quality video for them and then run those on Adwords and target them hyper-locally." Advertising agencies, he says, typically thumbed their noses at video, opting to focus on far more profitable TV ads. "The problem is," says Chad, "that this was actually the first year that digital spend outpaced TV and now it is never going to go back."
The co-founders started producing videos for local businesses, working out of Hope's spare bedroom. Fast forward five years and Lemonlight now has a 7,000 square foot office with a 2,000 square foot studio, 43 full-time employees and approximately 500 contractors. And the company has earned a place on the prestigious Inc. 5000 list for the past two years. Lemonlight still works with entrepreneurs, but also has clients such as Wayfair.com and Amazon.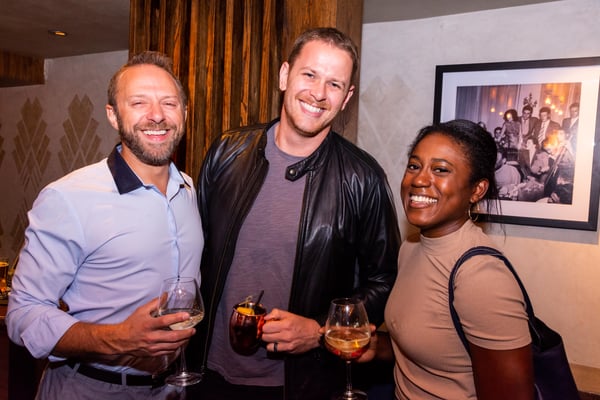 There's far more competition now, of course, but Chad says that Lemonlight distinguishes itself by addressing four specific pain points:
Affordability. "Video is traditionally expensive but we provide an affordable, scalable solution," says Chad. "We're not the cheapest, but compared to other production companies and creative agencies, we're far more cost-effective." There's a transparent pricing menu that applies to all clients, large or small, he says.
Quality. "We have a very rigorous onboarding process and are continually reviewing our contractors," he says. When they first started the company, Chad and Daniel flew to each shoot and brought on extra crew members to help. Over the years, they built a nationwide network of trusted contractors, who are now organized in a tier system, according to how they're rated by customers and the company's editors and creative directors. Every shoot, says Chad, has a tier-one (perfect reviews) videographer. The company actually has an in-house team dedicated to onboarding and reviewing videographers.
Local crews. Lemonlight uses local crews in more than 40 U.S. markets, Canada, Australia, and Europe. This drives down cost and gives clients a consistent experience across markets. "If someone like Amazon has work in San Francisco, New York, and Tel Aviv, they don't want to hire ten different companies and have the videos not the same and have to worry about project management," Chad says. "This is our biggest differentiator because it allows us to shoot everywhere at any time."
Speed. Chad says that more than 50% of Lemonlight's work now comes from agencies, many of whom are YEC members. "Let's say they sell someone an advertising package and 20% of the spend will involve creative," he says. "They'll utilize our local crews to go out and capture footage for them to create those ads." It's much faster and more economical for agencies to work with Lemonlight than it would be to find their own local crews or fly someone out to a shoot.
Chad has been a member of YEC for several years and frequently attends YEC-sponsored events at conferences. "I was recently at HubSpot Inbound speaking at the conference and YEC hosted a networking event," he says. "I met a lot of cool people I hadn't met before." He joined YEC at the same event three years ago. He's also attended YEC events at Collision and CES. "Our business has grown because of YEC connections we've made like MuteSix, Hawk Media, and Influence & Co. I'm continuing to meet amazing companies and creating a lot of video content for the companies in YEC. Most of the time, I'm meeting new members at YEC's conference events."