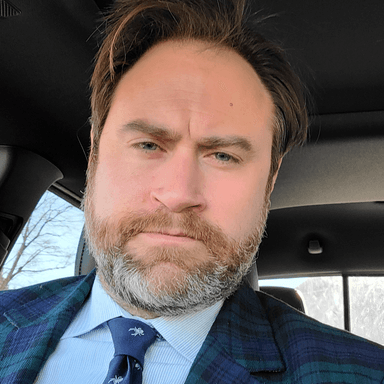 Ryan Bradley
Partner
Koester & Bradley, LLP / White River Consulting, LLC
Champaign, IL
Member Since December 2016
Skills
Legal
Go to Marketing Strategy
Business Consulting
About
I own and manage a civil litigation law firm, Koester & Bradley, LLP and consulting practice, White River Consulting, which allows me to work with clients from tech companies to political campaigns, people injured in car accidents, to small Midwest businesses.   Along with my partner at Koester & Bradley, we are continuing a tradition that dates back to 1895.  The primary thrust of the cases I handle involve serious injuries or death, Class Actions / Mass Torts, Consumer Fraud and Financial Fraud as well as general litigation.  Additionally, we work with small to medium sized business to handle difficult civil legal situations such as litigation and arbitration. As part of growing the law firm, I dove head first into the world of digital marketing along the way tackling SEO, Social Media, and Branding.   In 2015, I launched White River Consulting with the goal of helping small to medium sized business realize that they CAN conquer marketing on their own and still know when to call in for back-up.  Helping business grow is my therapy from a contentions job as a litigator, and I frequently work with early-stage companies and well-established brands to iron out the kinks in their respective processes. Formerly I founded along with renowned watch and gear designer Jerommie Smith, Smith & Bradley watches. We design and build sport and tactical watches and outdoor products. In keeping with the lean start-up model, Smith & Bradley relies heavily on social media and viral marketing to preach the gospel of watches and crowdfunding for equity.  We have successfully funded five projects on Kickstarter. I exited the company in 2017 but it is still raging on today and I serve an an advisor. I genuinely love what I do, so I am always working.  I also spend some time chasing my four kids (three girls and a boy) and playing golf, tennis, skiing.

Company details
Koester & Bradley, LLP / White River Consulting, LLC
Company bio
A civil litigation lawyer with a business consulting firm. We concentrate on complex injury and financial cases and and offer a full suite of consulting services from marketing to business formation and acquisition as well as employee engagement. The billable hour is dying, and we are helping to kill it. White River Consulting is project-based and results driven. It is about time that underrepresented markets have a voice. If you are a small to medium sized business in the middle of the United States...let's talk.
Industry
Management Consulting
Area of focus
Civil Litigation
Business Consulting
Marketing Development