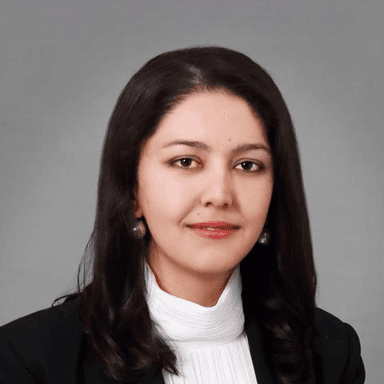 Feruza Djamalova
Co-Founder and Senior Lawyer
Sobirovs Law Firm
Toronto, ON, Canada
Member Since March 2022
Skills
Legal
Business Development
Corporate Development
About
Feruza helped many clients in obtaining permanent residence in Canada and Canadian citizenship through immigration programs focusing on businesspeople, entrepreneurs and investors who want to establish successful businesses in Canada and secure the future of their families. Her approach is to offer honest advice and create a clear strategy for her clients. Feruza is a straightforward advisor and always tries to have a very open conversation with each client. Feruza's in-depth understanding of Canadian immigration law allows her to identify the possibilities available in each immigration file. Licensed to practice law in Ontario, Canada, Feruza established Sobirovs Law Firm in 2012 and since then has been offering tailored immigration solutions for those who want to become Canadian and raise a family in this beautiful country. Her rich international experience and personal knowledge of immigrating to Canada as a young professional gives her a full understanding of why people want to live in Canada. With advanced degrees in law and an extensive career in Canadian immigration law, Feruza always takes extra steps to help her clients achieve their immigration success in Canada. She believes that more exceptional people should make Canada their home. Outside of her work, she loves cooking great food for her family, reading books on self-development and doing high-intensity workouts with Jillian Michaels.

Feruza Djamalova
Co-Founder and Senior Lawyer
Company details
Sobirovs Law Firm
Company bio
We are a team of business and corporate immigration lawyers and professionals based in Toronto, Canada. Our primary goal is to assist businesses, entrepreneurs, and investors from all over the world to relocate and succeed in Canada. We help our clients navigate through Canada's immigration system with ease and provide hassle-free immigration services. We want our clients to concentrate on growing their business in Canada, not on solving possible immigration problems. We love Canada and believe that immigrants make significant economic, social, and cultural contributions to the prosperity and diversity of our country. We are on a mission to bring more successful, creative, and talented immigrants to our beautiful country.
Area of focus
Legal
Business Development
Human Resources