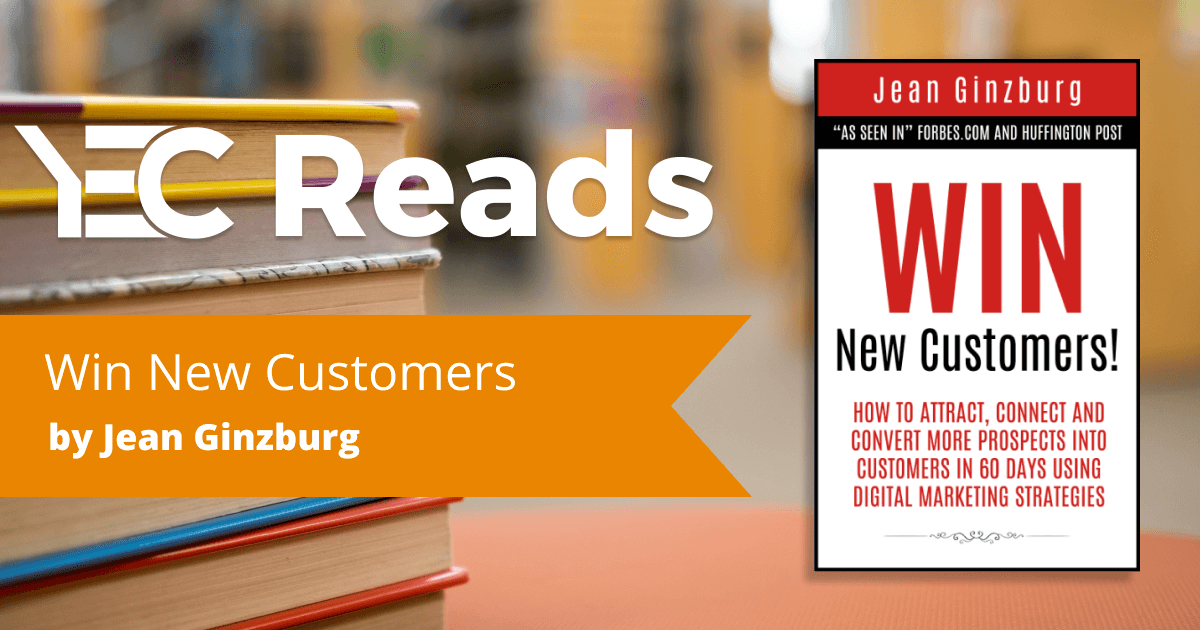 Win New Customers by Jean Ginzburg
Welcome to "YEC Reads," a series presenting books written by YEC members on business topics.
Win New Customers: How to Attract, Connect, and Convert More Prospects into Customers in 60 Days Using Digital Marketing
September 20, 2017
Our Take:
In Win New Customers, Jean Ginzburg details the customer acquisitions applications of digital marketing for entrepreneurs and other business leaders.
About This Book:
You don't know where to begin. You are frustrated because you don't know all the strategies and tactics to grow your business. You are all over the place — starting one thing, finding that at first sight it might not be working, and giving up. Then jumping to the next shiny thing, only to find that, it too has failed. This is known in the community as "shiny object syndrome."
You love your idea or product but you don't know how to use digital marketing as a channel for your business. You also feel overwhelmed at all the steps needed to take to get to the final destination and it makes you uneasy. And on top of all that, you are getting customers haphazardly. One month you might have a ton of customers, the next months it's crickets.
You have an amazing business and a solid product. And I know you want to get there! I know you want to feel successful.
You want to get to the point where you know what you need to do to create a strategy for your business. You understand how to execute on next steps. You don't feel like digital marketing makes your head hurt or is too complex and complicated. You understand all the main components of digital marketing and you know how to use each of the components and at which time. You see your business growing and are excited you've created a successful venture.
With this book, I can take you there! I can get you to where you WANT to be.
You have probably tried from one to dozens of books, courses and paid programs targeted to entrepreneurs. These courses typically lure entrepreneurs in with amazing results and stretched stories of how someone, somewhere has made thousands of dollars utilizing this one method that will make you rich.
This book is different. And do you know why?
Because this framework has been refined and perfected over five years. This isn't just a quick system that I set up. This is a framework that worked for my business AND my clients' businesses.
This book goes through all the aspects of customer acquisition. You don't need to buy multiple books for how to create funnels or how to run Facebook ads. This book contains the ultimate guide to how to find new customers.
This framework is a long-term investment in your business. This isn't about making a quick buck. If you want to invest in your business to have as your own for your revenue stream or to eventually sell, this formula I used to grow my clients' businesses from several thousand dollars per month to 7 figures per year can help you do that.
About the Author:
YEC member Jean Ginzburg is the CEO and Founder of JeanGinzburg.com, a digital marketing education company, and Ginball Digital Marketing, a digital marketing agency. She is a serial entrepreneur and digital marketing expert with more than 10 years of industry expertise helping companies scale revenue, optimize sales and marketing processes and improve productivity.