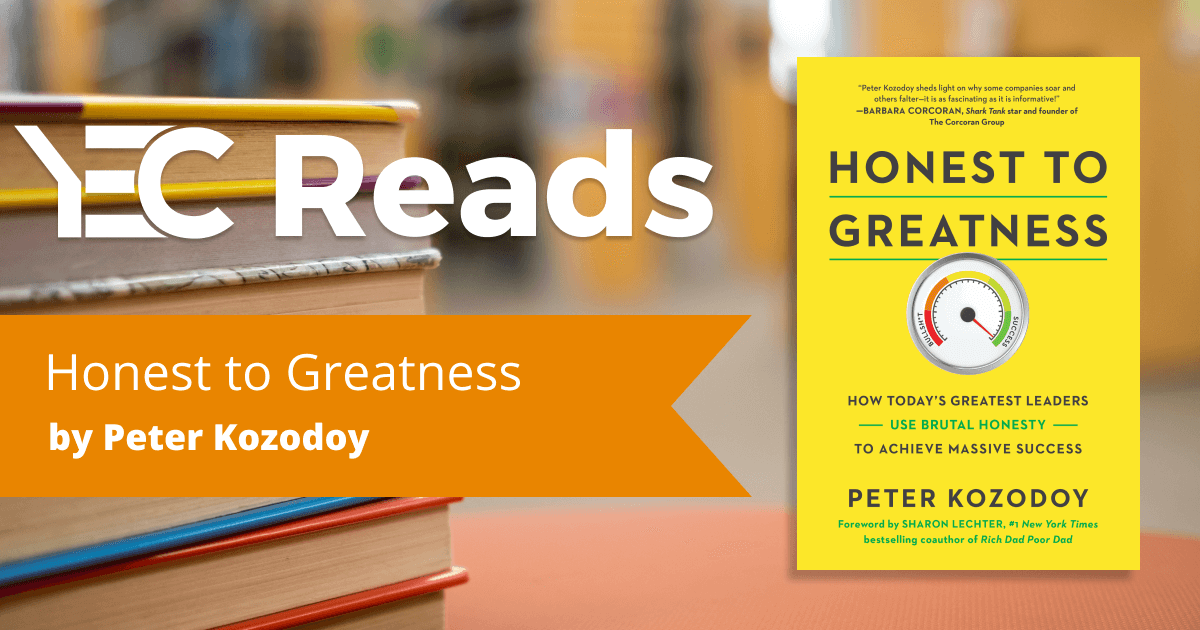 Honest to Greatness by Peter Kozodoy
Welcome to "YEC Reads," a series presenting books written by YEC members on business topics.
Honest to Greatness: How Today's Greatest Leaders Use Brutal Honesty to Achieve Massive Success
BenBella Books
August 11, 2020
Our Take:
Honest to Greatness illustrates the beneficial power of a quality too often overlooked in business and life today — honesty.
YEC members can contact Peter anytime to get a free copy of the PDF companion workbook to the book!
About This Book:
Do you ever get sick and tired of all the BS out there in the world?
Well, here's some good news: If you want to build an industry-dominating business in today's hyper-transparent world, then honesty is the #1 business strategy you'll need—and this book will prove it to you.
The fact is, consumers today are smarter than ever, with more information at their fingertips than they know what to do with. And with near-perfect information, we've begun to make dramatically different choices about what we buy, flattening leaders and organizations who have historically relied on deceit to achieve success.
In today's world, we see right through these tricks, roll our eyes at corporate scandals, and distrust … well, everyone. And in that environment, only the honest will survive.
In Honest to Greatness, serial Inc. 5000 entrepreneur Peter Kozodoy shows how today's greatest business leaders use honesty — not as a touchy-feely core value, but as a business strategy that produces game-changing, industry-dominating success.
Through case studies and interviews with leaders at Bridgewater Associates, Sprint, Quicken Loans, Domino's Pizza, The Ritz-Carlton, and more, Kozodoy shows how anyone in the workplace can use strategic honesty to:
Rapidly explode your sales by deliberately telling people the "whole" truth
Attract and inspire the best talent in any industry (who only really crave one thing)
Create an unbeatable culture of innovation that easily dominates your competitors
Earn your team's respect and loyalty by using a simple but brutally honest technique
Unlock deep personal fulfillment by getting honest about your own self-limiting head trash
Filled with powerful lessons for current and future leaders, this timely book shows you how to use honesty at both the organizational and individual level to achieve true greatness in business and in life.
About the Author:
YEC member Peter Kozodoy is an Inc. 5000 serial entrepreneur, TEDx speaker, and business coach who works with organizations and their leaders to help them overcome self-limiting bullsh*t and use brutal honesty to achieve massive success.
Reviews:
"Honest to Greatness is a timely read for anyone who wants to engage with consumers in today's market. Peter Kozodoy sheds light on why some companies soar and others falter — it is as fascinating as it is informative!"
— Barbara Corcoran, Shark Tank star and founder of The Corcoran Group
"Honest to Greatness should be required reading for any aspiring leader. Filled with jaw-dropping stories and packed with actionable business tips, this book forces you out of your comfort zone and inspires you to make huge changes in your life and business!"
— Richie Norton, author of The Power of Starting Something Stupid
"So well written, so timely. This book is a refreshing deep dive into the transformative power of total transparency. A masterpiece!"
— Gino Wickman, author of Traction and Entrepreneurial Leap