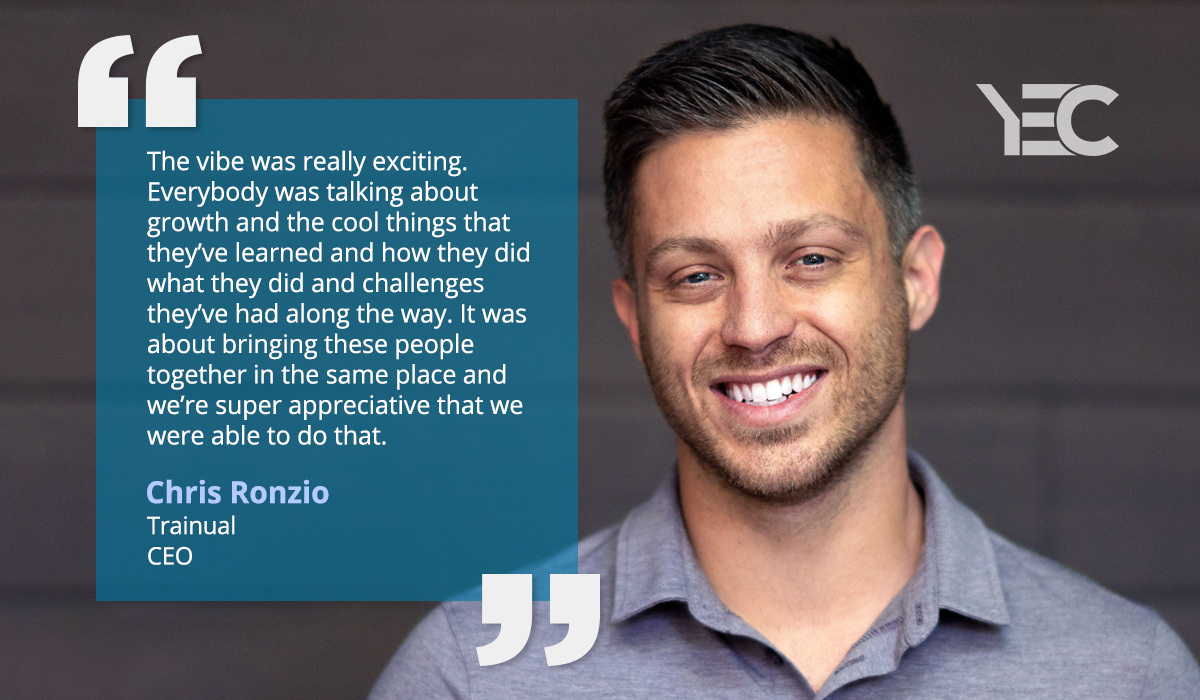 Trainual and YEC Team Up in Phoenix to Toast Inc. 5000 Honorees
Autumn desert weather, a stunning venue, specialty cocktails, and a room full of rock-star entrepreneurs was the perfect recipe for a highly successful event, says YEC member Chris Ronzio. His company, Trainual, recently sponsored a YEC happy hour at the Inc. 5000 conference at the JW Marriott Desert Ridge Resort and Spa in Phoenix.
Chris and his brother, Jonathan Ronzio, who is also a YEC member, started Trainual to help growing businesses scale their teams by offering a platform for organizing their processes, policies, and procedures. Since January 2018, Trainual has served thousands of businesses in more than 100 countries. The company aims to transform the way businesses train and scale worldwide.
"What happens when you get two cool entrepreneurial brands like YEC and Trainual together?" asks Chris. "You get a bunch of cool people in the same room. It was a blast." Approximately 50 people attended the happy hour event, among them several YEC'ers, Inc. 5000 honorees, Trainual customers, and some of the company's certified consultants.
Attendees mingled, networked, and sipped specialty cocktails such as the YEC Mule, Grow Whisk Me, and the Trainualita. "The vibe was really exciting," says Chris. "Everybody was talking about growth and the cool things that they've learned and how they did what they did and challenges they've had along the way. And personally, that's what I love. It was about bringing these people together in the same place, and we're super appreciative that we were able to do that."
Chris noted that he's also an investor in Design Pickle, a graphic design firm that ranked number 345 on this year's prestigious Inc. 5000 list, which honors the fastest-growing privately-held companies in the U.S. "Hopefully we'll be involved in the next event next year, and we'll be on the list ourselves," says Chris. Trainual was recently awarded the Phoenix Entrepreneurial Opportunity award and 2019 Most Promising Startup during the DesTechAZ conference.
Connect your brand with rock star entrepreneurs by hosting a YEC event like this. Contact miranda.barrett@yec.co.