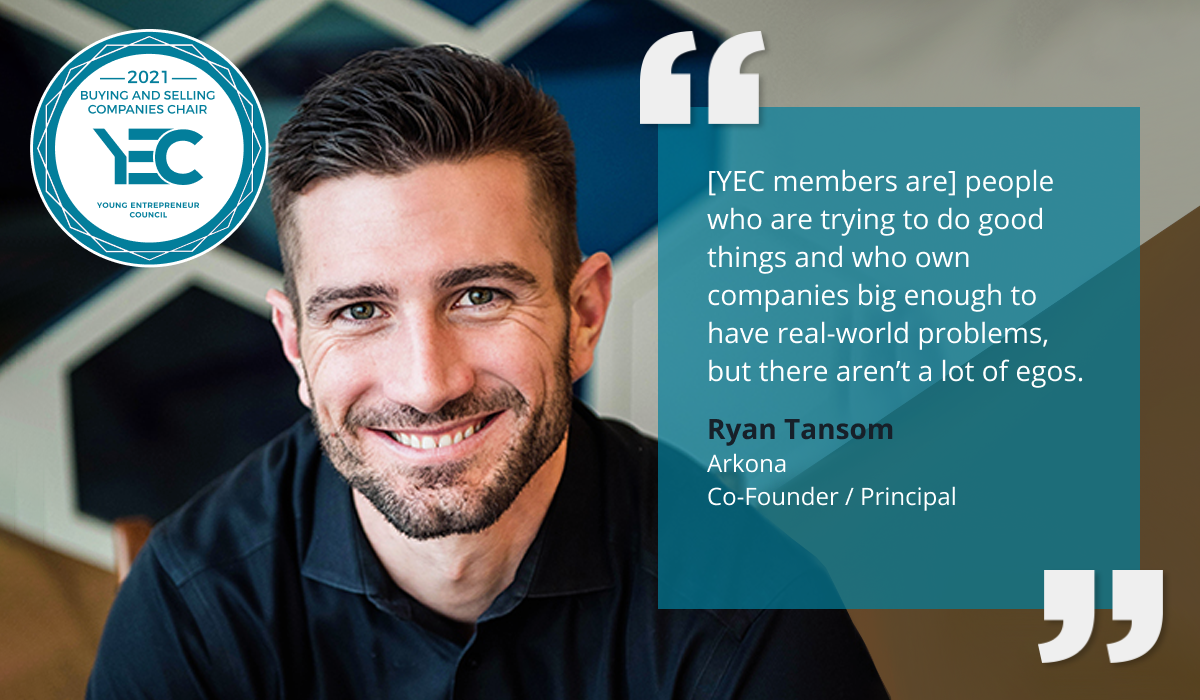 Ryan Tansom is YEC Buying and Selling Companies Chair
Young Entrepreneur Council is a highly selective membership community of entrepreneurs under 45 whose companies have revenues or funding of at least $1M. The YEC Groups program is a new initiative designed to better connect and engage members through the creation of micro-communities based on location, industry, identity, and interests.
Each group is led by a volunteer chair, hand-selected by the YEC team for outstanding leadership in the community during his or her membership tenure. All chairs share one common trait that we believe makes them exceptional: a people-first mentality with regard to relationship building, heavily invested in giving more than is expected in return.
---
As one of the first participants in the YEC Chair program, Ryan Tansom, the co-founder of Arkona, is excited about his new role as buying and selling companies chair because "by understanding how companies are bought and sold you can reverse engineer that into growing a more valuable company with the end in mind," he says. "It's really about creating freedom and options that a lot of us entrepreneurs want to have."
Entrepreneurship runs in Ryan's blood; in his early 20s, he started working at his father's company, Imaging Path, which sold and serviced copy machines. The 2008 financial crisis hit the company hard and Ryan spent the next few years in a "fight for survival for the family business. We ended up doing amazing work and turning the business around, and we sold it to a competitor for eight figures."
Ryan joined YEC three years ago because he loved the idea of being part of a community of "people who are trying to do good things and who own companies big enough to have real-world problems, but there aren't a lot of egos."
It was grueling, but the turnaround made Ryan realize that he and his father didn't know nearly enough about valuations and mergers and acquisitions, and that the same was probably true for other business owners. That "aha moment" led him on a journey to "package all that knowledge up into a framework that teaches owners about valuations and how to grow the company's value with an end in mind," he says. "You have to understand how the whole story can unfold in order to engineer the journey that you want, whether that's to keep the business as a passive investor, sell it to your employees, or flip it and sell it to the highest bidder."
After fine tuning his framework, Ryan launched Arkona in May 2019 with co-founder Pat Hobby, a veteran entrepreneur who owned an outsourced CFO company for more than 20 years. "He's in his 60s and he rounded out all the technical expertise and the gray hair that I don't have," says Ryan. "We're the perfect combo of sales visionary and 'been there, done that' entrepreneur."
Arkona's typical clients, says Ryan, are founder-owned companies that are not backed by private equity or venture capital. "We have built out case studies and we have a two-day educational boot camp for owners where we get people together and we teach this material," says Ryan. "And then we put that whole plan into place through fractional CFO services."
While physical bootcamps are temporarily on hold, due to COVID-19, Ryan says the program has been digitized. "That was on our agenda anyway, but when we realized what was happening, we worked on it every waking moment for almost two months. It's now going to help upscale and leverage the relationships we had already created." He thinks that the current economic crisis will be a catalyst for business owners to think more intentionally about how they grow and value their companies.
Ryan joined YEC three years ago because he loved the idea of being part of a community of "people who are trying to do good things and who own companies big enough to have real-world problems, but there aren't a lot of egos." He's cultivated lasting friendships, landed some clients through YEC, hired a member to do digital marketing, and is also working on a book with a fellow YEC'er. He thinks his experience selling his family's business and the work he's done with Arkona's clients positions him perfectly for his YEC chair position. "I'm really excited to have a group of people who are passionate about buying and selling companies," he says. "We can help each other accelerate ourselves to the goal, make connections, and utilize the right resources."