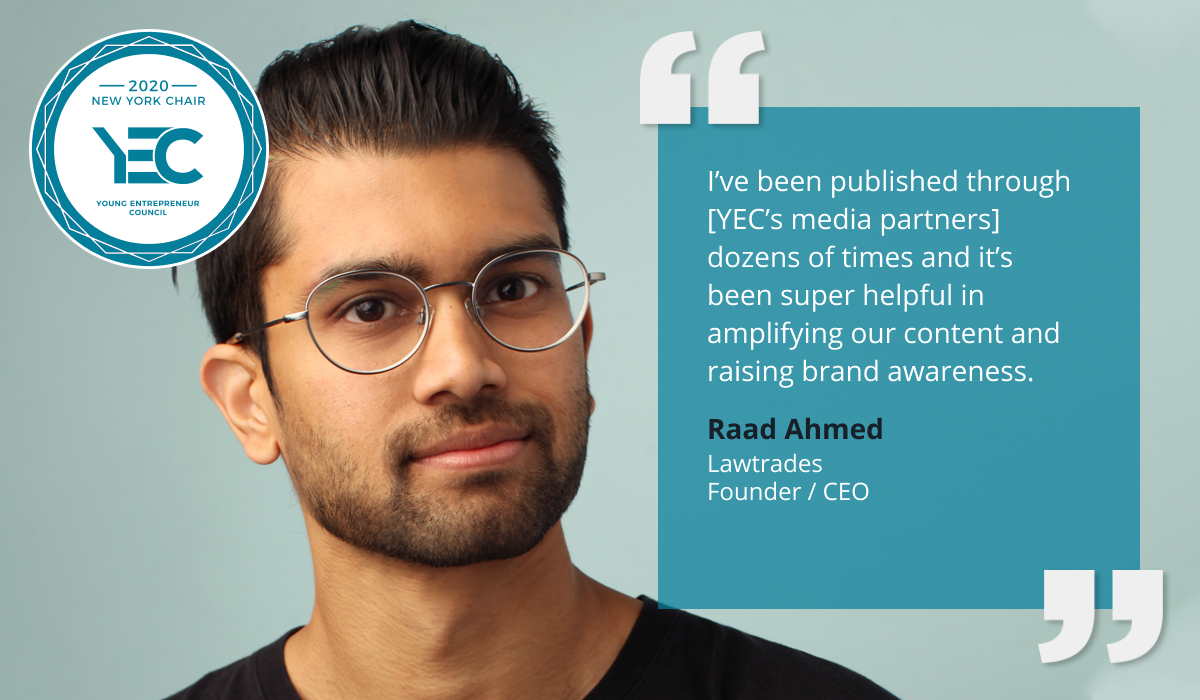 Raad Ahmed is YEC New York Group Chair
Young Entrepreneur Council is a highly selective membership community of entrepreneurs under 45 whose companies have revenues or funding of at least $1M. The YEC Groups program is a new initiative designed to better connect and engage members through the creation of micro-communities based on location, industry, identity, and interests.
Each group is led by a volunteer chair, hand-selected by the YEC team for outstanding leadership in the community during his or her membership tenure. All chairs share one common trait that we believe makes them exceptional: a people-first mentality with regard to relationship building, heavily invested in giving more than is expected in return.
---
Raad Ahmed remembers distinctly his first experience with YEC. "It was at South by Southwest," he recalls. "I went to one of their parties and it was amazing." At the time, he was just getting his company, Lawtrades, off the ground and did not meet YEC's minimum revenue requirements. "They said, 'come back when you're at a million bucks,' and that was my motivation," Raad says. "I thought, damn, I need to grow this company so I can be part of this group." A year or so later, he reached that threshold, had raised some VC money, and was accepted into YEC. "It's good for business networking," he says. "But it's also just cool people and I've made good friends. We're going through similar things; I learn from them, and they learn from me."
Raad started his business shortly after he graduated from law school. Originally, his goal was to start his own traditional law practice, but decided that building an internet legal business would be more lucrative and scalable. "I really wanted to figure out a way to help independent lawyers and paralegals participate in the internet economy, bringing professional services online and rethinking how people make money." His solution was Lawtrades, a B2B platform where a carefully vetted community of 100 or so independent lawyers upload their resumes and qualifications and are matched with companies who need their services.
The platform is free to legal professionals, many of whom are women who want more flexible work arrangements. "The general profile is someone who worked at a big law firm, got burned out, and wants the freedom to be able to work from wherever, set their own hours, and pick their own clients," Raad says. Attorneys who are accepted into the platform can simply open their phones, look at a few tailored opportunities that match their hourly rate and practice areas, and choose the ones they want to be considered for. The Lawtrades algorithm facilitates the back and forth between attorneys and customers who then begin their engagement on the platform.
"It's good for business networking," Raad says of YEC. "But it's also just cool people and I've made good friends. We're going through similar things; I learn from them, and they learn from me."
Lawtrade's clients are typically late-stage startup companies who have their own general counsels but want to outsource their day-to-day legal work. "Companies win because they're able to tap into this distributed remote workforce of legal talent at a fraction of the price of a traditional big law firm," says Raad. The platform also handles all the backend complexities, such as 1099 requirements, performance reports, and payments.
Raad says that his biggest challenge has been overcoming customer resistance to a new business model. "We're coming into an industry that hasn't fundamentally changed in the last hundred-plus years," he says. He overcomes that through visibility at events, good content and newsletters, and promotions that allow prospective clients to try the service for free. After a 10-hour free trial, says Raad, "they're blown away by the experience, and they might buy another 200-300 hours."
Since he joined YEC, Raad says "I've been published through [YEC's media partners] dozens of times and it's been super helpful in amplifying our content and raising brand awareness." As New York chair, he says he's "excited to shift back into the community-focused aspects" of YEC. He likes to put his spin on virtual events, so he's considering a new video tool called Icebreaker, which helps drive conversation through games and conversation prompts.
When COVID-19 abates, Raad is looking forward to in-person events again, such as the YEC event his company co-hosted at Rose Mansion, operated by fellow YEC members Tyler Balliet and Morgan First. "There's been a big pause and everything has kind of stopped," says Raad. "But people are still looking to connect and YEC does a really good job of connecting people at scale. I'm excited about continuing that.