SkyHive Partners With Accenture
Sean Hinton announced that SkyHive is proud to partner with Accenture in supporting workforce resilience in response to COVID-19. Accenture released a full report, including SkyHive's role in this ambitious global initiative.
Sean says, "We are humbled to be selected as a key global ecosystem partner by Accenture to support global CHROs to help their organizations achieve long-lasting workforce resilience."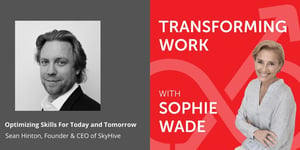 Also, in a recent interview with Work Futurist Sophie Wade, Sean explained how SkyHive helps organizations and individuals identify their skills and align them in real-time with business and career growth trajectories. "Instead of living in fear of automation, companies should focus resources on reskilling their current workforce to repurpose and retain them to stay competitive," Sean says.
Connect with Sean Hinton via the member concierge (YEC members only) or on LinkedIn or Twitter.
---
YEC member news posts share the exciting accomplishments of our members, including awards and accolades, funding, executive hires, acquisitions, partnerships, and new product and service launches. Read more on the blog about entrepreneurship and what our members are working on. If you're a YEC member, you can submit your accomplishments to be shared.