Keeping It Real With the Vetter Brothers
"Five years ago, I was sitting in my townhouse kitchen, writing a business plan for a salad dressing company that I didn't know that anybody wanted," says former lacrosse pro Greg Vetter in a video on the Tessemae's All Natural website.
Today, brothers Greg, Brian and Matt Vetter are at the helm of a fast-growing condiment empire. The company now employs 150; sales for 2014 are projected to total $25 million. And Tessemae's lineup of twenty-something products are now sold globally online and in the produce aisles of retail stores across the nation, including Whole Foods, Costco and Safeway.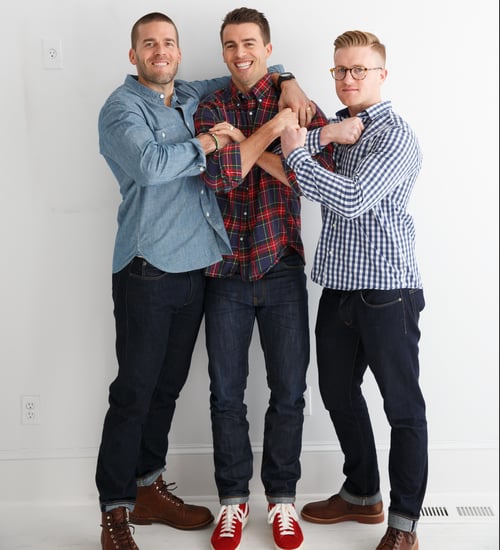 Tessemae's All Natural is a sugar-, dairy-, gluten-free, vegetarian-, vegan- and paleo-friendly, handcrafted salad dressing and condiments brand that Greg, CEO and "oldest brother," started in 2009, when he decided to pitch his mother Tesse's made-from-scratch salad dressing to Annapolis Whole Foods after telling them he was a food manufacturer (he wasn't).
Presented in a tupperware container of salad, the taste was enough to land Greg an in-store demo a few months later.
On day one, four cases (which typically would sell over the course of a month) sold out in 30 minutes. Fifty-five cases sold in five days.
Bottling the Family Recipe
Landing the demo was a win, but posed a problem: The dressing still had no name, no packaging and no branding whatsoever. And despite what he told Whole Foods, Greg had no idea how to be a food manufacturer.
In between his full-time job selling benefit packages and playing professional lacrosse for the Chesapeake Bayhawks, Greg had three months to figure it out.
There were unexpected hiccups. Before granting approval of packaging, the FDA asked Greg how he was going to seal the bottle. (Turns out a bottle sealer runs $3,000.)
"I'm like, 'Freaking Maker's Mark uses wax, for God's sake'," says Greg. "So I Googled bottling wax, found a place in Wisconsin, overnighted 10 pounds of burgundy bottling wax, and that launched it."
Those wax bottle caps have since become a signature element in the Tessemae's brand.
Taking all of this on by himself also proved difficult for Greg. Despite the help of his mother, who now holds the title of Official Taste Tester, and some part-time help from his wife and brothers, Greg quickly realized Tessemae's wasn't a part-time job.
"Being a produce item is completely different than being a grocery item. It takes daily and weekly management of the shelf, and the store buyers and the regional buyers. And so, I'd say nine months later, I got to a point where I called Brian and said, 'Hey man, I get emails every week. Everybody loves this stuff. We're either going to shut this thing down, or it's time to double down. You need to quit your job. I'm going to liquidate my 401(k)s and everything else, and we've got to blow this thing up.'"
Brian left his job in 2010, and now goes by Middle Brother/EVP of Business Development. Matt, Youngest Brother/VP of Production, hopped on board in 2011. Greg's wife is the COO, and their dad is Director of Good Karma.
Keep It Real
'Keep it real' is a favorite Vetter saying, and it applies to everything from ingredients to culture.
"We're a real brand and that's just how we are, and I think too many people start a company and try to be bigger than they are, or more corporate than they are," says Greg. "And in doing it, you sterilize whatever advantage you had in the beginning. When we started, you look at all of our competitors, and it's just lifeless. The product was lifeless, the packaging was lifeless, and you would never talk to anybody about it."
But as the company grows, maintaining Tessemae's unique identity and vision is a challenge.
Says Greg, "You preach it every day. You live it. I think Matt, Brian and I are prime examples of our core values and how we want the rest of our employees to live their lives, which is, work hard, play hard. And if someone is playing hard and not working hard, they're going to get a quick talking to, and if they're working too hard and not playing hard, we'll throw a company happy hour or something to loosen it up."
Take the Vetters' morning routine: They wake up around 4:30 a.m., meet at the gym around 5:15 and work out until 6:30. From there, it's off to Whole Foods for breakfast, a nearby coffee shop for espressos, and then to their headquarters, known as the Tree Fort -- a 36,000-square-foot office-meets-manufacturing facility in Essex, Maryland, just outside of Baltimore.
"Matt hooks up his music, and then people just start coming in, and we have meetings, and there's always something going on. We're either shooting videos or working on new products, or Matt's kicking doors down, making people taste new products. We always have people coming in there to visit," says Greg.
Work Backwards from WOW
Many of those drop-in visitors are customers, who play a big part in Tessemae's product development.
"I get a weekly customer happiness report, and we look for trends in what people are saying or asking for. It took 50 people to email us to ask for a quality ketchup that didn't have any refined sugars in it, and we did it," says Greg.
"We always use the phrase, 'Work backwards from wow'," he explains. "And it's like, what if you walked into a grocery store, and there was a refrigerated ketchup with no refined sugars that used fresh ingredients and had beautiful packaging? What would you be willing to pay for that? And we talk to people, all different types of people. We don't do any formal marketing plan, we'll just ask strangers in a grocery store, and they'll say, 'I would pay $5.50 for that.'"
After introducing the all-natural ketchup, Tessemae's sold 1,100 bottles in just three days.
Focus on Velocity, Not Margins
Tessemae's is now the top-selling salad dressing in the Whole Foods produce department, but getting here has not been easy.
"Every region of Whole Foods has said 'no.' Safeway said 'no.' Costco said 'no.' Everybody says 'no.' They've said 'no' multiple times, and we just keep pressing on," says Greg. "We're like, 'Hey, you're going to bring our stuff in, and it's going to be number one. You just don't know yet, and you don't trust me yet. So, let me in here."
"Just stay the course," Matt says. "Because a lot of times, we think sh*t is hitting the fan, and you just keep grinding it out, and then a week or a month later, something amazing happens, and you're just like 'Phew! Glad we continued to stay the course and didn't hit the panic button."
To scale a product with such high-quality ingredients while keeping costs in check -- for Tessemae's, retailers and customers -- the Vetters focus on velocity over margins.
"We're able to keep our price point at a reasonable level because we work off of lower margins than a normal company would," says Greg. "If we use traditional margins of a salad dressing company, our dressing would be $8.50 or something ridiculous like that. We always have to negotiate and play the velocity card when we're talking to new retailers and buyers, because they like to play the margin card, but you don't take margins to the bank. You take dollars. So we really focus on, 'Hey, we're selling three times what our competitors are selling. So let's stop talking about raising the price point to something that's not reasonable," says Greg.
Buyers and vendors are finally listening.
"We literally have vendors showing up at our door every day, trying to undercut each other's pricing," says Matt. "It's been an amazing part of the growth curve. At first nobody wanted to give us the time of day, and now I have a laundry list of vendors who want to work with us."
Put Brand Alignment First
Some of those same vendors suggest the company use cheaper ingredients, like replacing lemon juice with citric acid. But following the "industry standard" isn't an option for Tessemae's if it doesn't align with the brand.
"Don't just make a product because you think it's a good idea and then cut corners on the quality of it. That's a quick path to a quick death right there," says Greg.
Don't just make a product because you think it's a good idea and then cut corners on the quality of it. That's a quick path to a quick death."
That same mentality goes for investors. For the first three and a half years, the Vetters financed operations with a combination of credit cards, 401(k)s and a single angel investor's goodwill.
"That really allowed us to shape the culture and the vision and get the products going, and then be able to tell a good story to…let's just call them very aggressive, intelligent investors," says Greg.
Last October, Tessemae's raised $3 million in funding from various investors, including Jermon Bushrod of the Chicago Bears and Ed Reed, formerly of the Baltimore Ravens. Other Tessemae's investors include consultant Mike McDevitt of Tandem Legal Group and Evan Morgan of Revolution Growth.
"All of this stuff, at the end of the day, comes down to trust and relationships. I'm going to look a guy in his eyes, and if I like him, then that's how it goes down. We take a brother poll on, 'All right, who's this guy? What's he doing? Who's this girl? What's she doing? Why does she want to be a part of this? Do we need this investment?" says Greg.
Trust and alignment aren't buzzwords for the Vetters; it's their rubric for big decisions. They've turned down investors more than once.
The Future of Tessemae's All Natural
This year, brokers and distributors will be key to the company's ability to get into smaller retailers that fit Tessemae's brand identity, but would otherwise be challenging to stock.
When it comes to the long term, however, they're doing what they've done all along: Keeping it real.
"I believe that everything has a lifecycle, and we need to be very aware of that. To say, 'All right, Tessemae's is going to be the next huge consumer packaged good brand, and we're going to make billions of dollars, and yada, yada, yada, and we're going to run it for the next 50 years — that's not how we operate," says Greg. "We're trying to make this brand as authentic as possible, while getting it to as many people as possible, and in the process, as we keep our ear to the ground, we will know what our next move will be and when it should be."
This feature originally appeared in YEC Quarterly, a print magazine for YEC members.