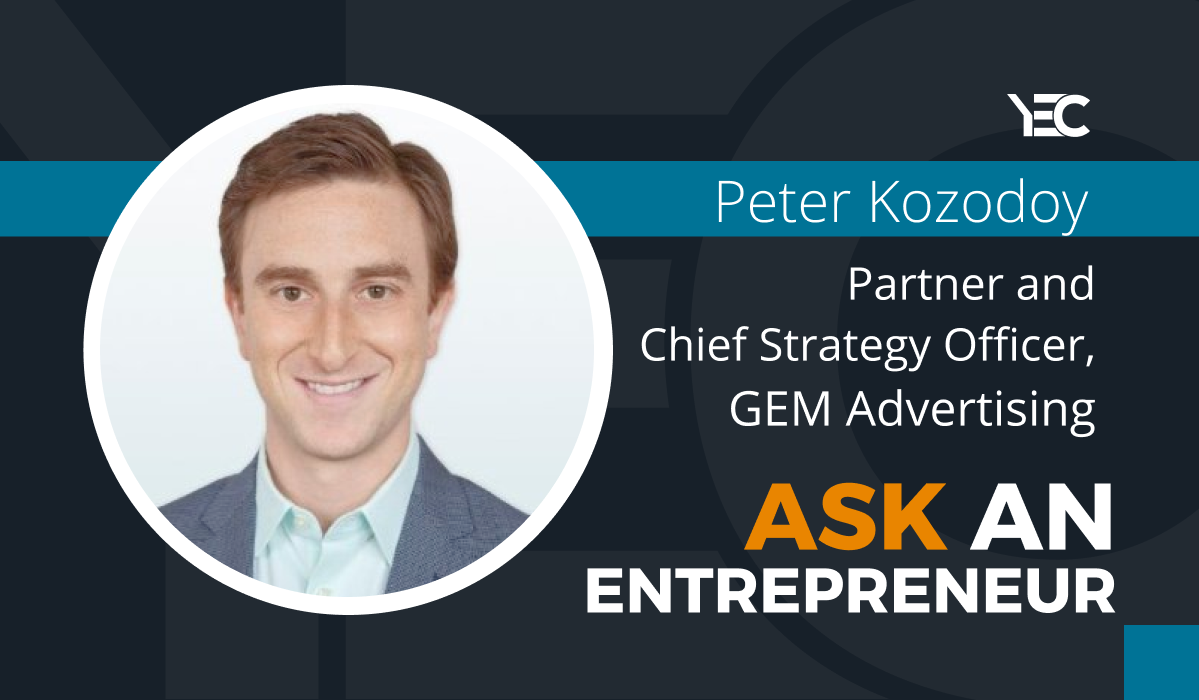 How Can I Pivot My Business During the Pandemic?
The Ask an Entrepreneur series features YEC members' experiences in entrepreneurship in a Q&A format.
---
Question: How can I pivot my business during the pandemic?
My company is facing major changes in the wake of the COVID-19 pandemic. What should I do next?
Meet our Entrepreneur: Peter Kozodoy, Partner and Chief Strategy Officer, GEM Advertising
Peter Kozodoy is the author of Honest to Greatness, an Inc. 5000 serial entrepreneur, TEDx speaker and business coach who works with organizations and their leaders to help them overcome self-limiting bullsh*t and use brutal honesty to achieve massive success.
Answer: Don't be afraid to rethink everything.
Whether we like it or not, 2020 has been a year for the record books. As a business owner it's been particularly challenging. Some owners found themselves losing most or even all of their revenue, while others — particularly in the digital or eCommerce space — found themselves scrambling to keep up.
No matter how 2020 has been for you, many entrepreneurs are wondering where to turn next with their businesses, or "what's the best way to pivot?"
Here are three approaches I've found useful:
Start with lifestyle. Entrepreneurs get to build their own life and control their time ... but only if they take advantage of it! I advise my entrepreneur clients to start with their ideal lifestyle. How do you want to spend your days? Your weeks? Your months and years? If you want to play tennis on Fridays, build around that. If you want to have a margarita every day at 5 p.m., build around that. The choice is yours, so be honest about what kind of lifestyle you want to build and build your business around it.
Build from scratch. One of the best questions I've ever been asked, is, "if you had to hire everyone who works for you all over again tomorrow, would you?" Extend that question out to not just the people in your business, but also your processes, your product or service, etc. Pivots don't have to be based on where you are; sometimes you can morph completely into something else if the new direction will be easier, or more profitable, or ride a bigger wave going on in society. Don't be tempted to cling to "the way it was." Instead, build a new business from scratch, even if it's in your mind, to see how you might do it differently (and better).
Maintain a pivot-first approach. Either you're going to pivot or the world will pivot you — that much became clear in the pandemic. Constancy is an illusion; everything is shifting all the time, and if we're not prepared to be proactive, then we'll always be behind as our competitors surge ahead. Don't wait for the next pandemic; always be pivoting, exploring new models, and asking for new insights and ideas from your team.
In the middle of this pandemic we found an opportunity to serve the same customer but in entirely different ways, building virtual trade show booths for manufacturing companies. Before we pivoted, I made sure that the service would align with my lifestyle and not require me to give up my preferred style of work. Then, we didn't hesitate one bit turning out entire sales machine in that direction, even though it meant pulling back on other endeavors. We never could have achieved that if we hadn't spent the last several years constantly hunting for new markets and opportunities, never resting on one client type or approach.