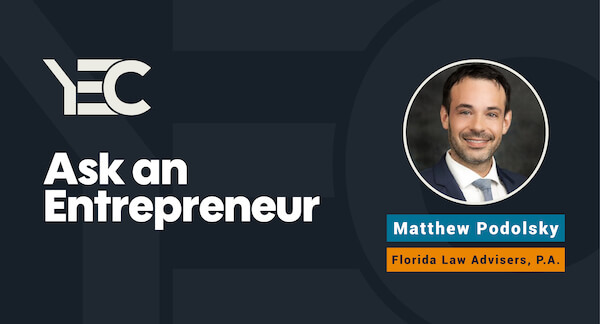 How Can I Keep Up With Client Questions?
The Ask an Entrepreneur series features YEC members' experiences in entrepreneurship in a Q&A format.
Question: How Can I Keep Up With Client Inquiries?
My staff is dedicating a disproportionate amount of time to responding to client questions and calls. How can I free my people up to work on other tasks while still meeting the needs of customers?
Meet our Entrepreneur: Matthew Podolsky

, Founder, Florida Law Advisers, P.A.
YEC member Matthew Podolsky is the founder of Florida Law Advisers, P.A., a results-based firm in Tampa, Florida. He started the firm because he saw there was a need in the community for high quality legal representation at a reasonable cost.
Answer: Automate the Process
As our business and client base has grown, we have struggled with having enough support staff to address our client's questions. We help clients in very important matters; often our cases involve complex divorce and child custody issues. With so much on the line for our clients, we must maintain constant contact to keep them informed and their concerns at ease.
For several weeks, I had my team keep a log of the common questions we were receiving from clients. This revealed some clear patterns as to the questions we were receiving and at what stage in the case they were occurring. After the review, we discovered most of the inquiries stemmed from court hearings, case documents, and billing. Armed with our new-found data, we sought to create cost-effective solutions. Increasing staff would have helped, but it would have also drastically reduced our profitability; therefore, we looked for other solutions.
We chose to develop a client portal to help address our client's concerns and improve their experience with the firm without creating additional labor costs. Clients can now log in to a secure portal with 24/7 access to their case documents, upcoming court hearing events, and billing information. Clients are thrilled they have access to this information on demand, without having to contact us. Additionally, it has freed up our staff members' time and helped to reduce labor costs.